Often times during cold weather you are forced to go back and forth between cold and warm temperatures.  If you stay all bundled up while going from hot to cold you end up sweating in the hot only to have that sweat make you colder when you get back into the cold temperatures.  If you try to go in and out with not enough clothes on you just end up freezing.  Either way you are going to get yourself sick.
The solution is a constant temperature coat.  The coat is lined with a liquid temperature regulation system that will keep your temperature "just right" no matter the surrounding temperature.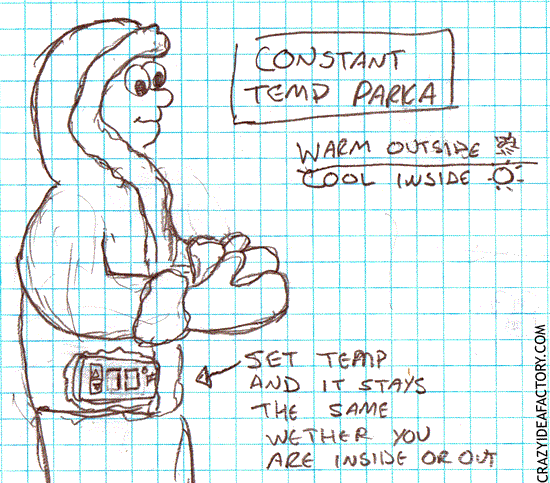 Now that the holiday season is in full swing many refrigerators are beginning to overflow with too many leftovers.  Most of those leftovers will go uneaten unless you have a Leftoverinator.
Ham, turkey, tofurkey, yams, spinach, potatoes, whatever your leftover may be dump it into the Leftoverinator.  The Leftoverinator uses a patented process to dehydrate, reformulate and preserve your leftovers as tasty leftover patties.  Don't worry about the flavor.  No matter what you dump into the Leftoverinator it will come out as patty that tastes just like chicken.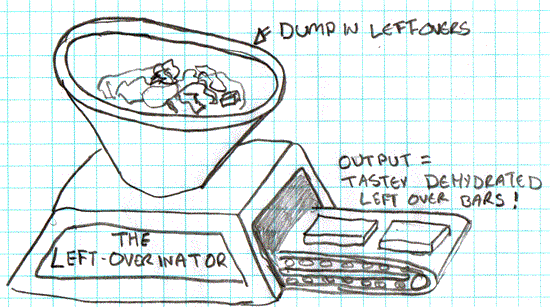 I would like to wish everyone a Merry Christmas and Happy Holidays!!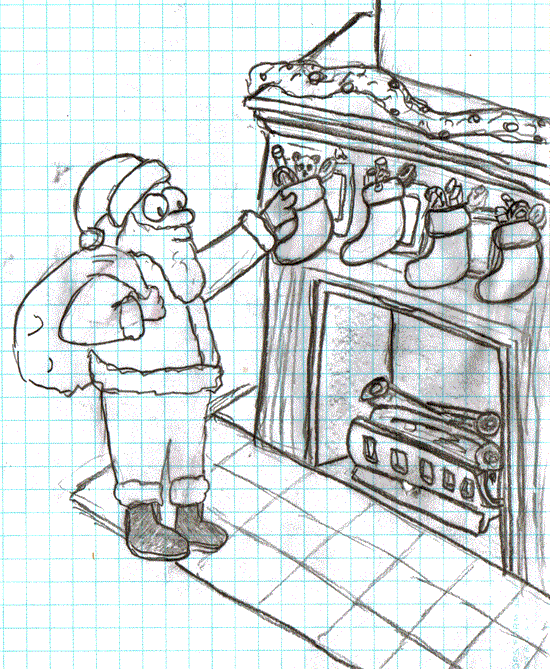 Santa has a lot to do on Christmas Eve, so he needs his milk and cookies laid out efficiently for him.  What could be more efficient than cookies and milk already mixed up and put into a soda can?  Santa can even bring the can with him and drink it on the sleigh ride to the next house.
It sounds like a tasty idea to me – I might take a few cans myself.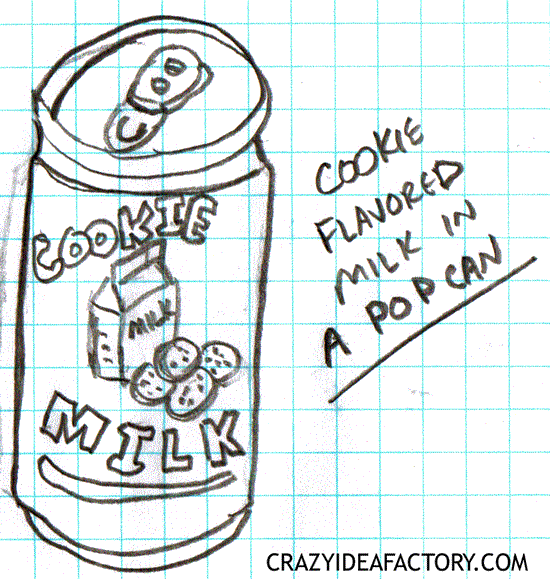 So you have a family member that is always trying to figure out what gift he or she has been given?  Maybe that same family member will peel back the wrapping paper when no one is looking and discover what the present is ahead of time.
To defeat gift snoopers you need a password protected gift box.  Insert the gift, set the combination and keep the combination a secret until it is time to open the gifts.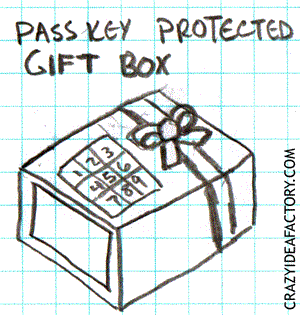 Santa may know if your child has been bad or good, but you might not always know.    The Naughty or Nice Meter will give "Santa like" naughty or nice knowledge to any parent.
With the Naughty or Nice Meter your child gets to wear a really cool temporary tattoo.   The tattoo is actually a sophisticated behavior sensor with a built in RFID transmitter.
As a parent you have a hand held Naughty or Nice Meter that reads the RFID signal from your child's tattoo.  To find out if your child is behaving when out of your sight, you just check your Naughty or Nice meter.  If the level has gone up you will know some suspicious activity has taken place.
Santa may also want to consider one of these.  His system is at least a few hundred years old – it might be time for an upgrade.
Installing Christmas lights can be a lot of work.  Untangling string upon messy string of lights.  Climbing up rickety old ladders and standing on icy roofs.
Putting up Christmas lights would be so much more fun with a Christmas Light Shooter.  Just fire away at any part of the house you want to decorate.  The lights stick because they are surrounded by a sticky jelly.  No cords required because the lights are all individual, solar powered (with battery) leds.  To take the lights down you just have to peel them off.