Gift Wrapping season has now begun!  After you have spent too much money buying presents the real work begins.  You could just wimp out and use gift bags, but your not that kind of gift giver.  You need to feel the rush of watching a 4 year old rip paper off without even noticing the well placed bows and intricate ribbons.
Any real gift wrapper knows every piece of tape placed on a package must be exactly 0.875 inches (2.22 cm)  in length otherwise the wrapping will be ruined.  The Tape Measure will save your artistic wrappings from certain doom by supplying cellophane tape at any length you so desire (including 0.875 inches).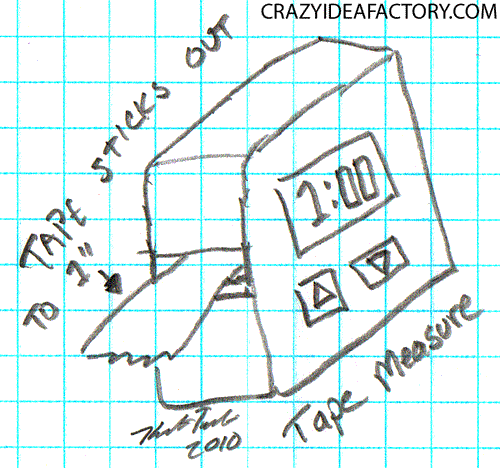 No longer do you have to be a member of an exclusive government organization in order to be a spy, modern technology has made it possible for anyone to be a spy.  All you need are the right gadget accessories along with a mysterious coat, hat and sunglasses.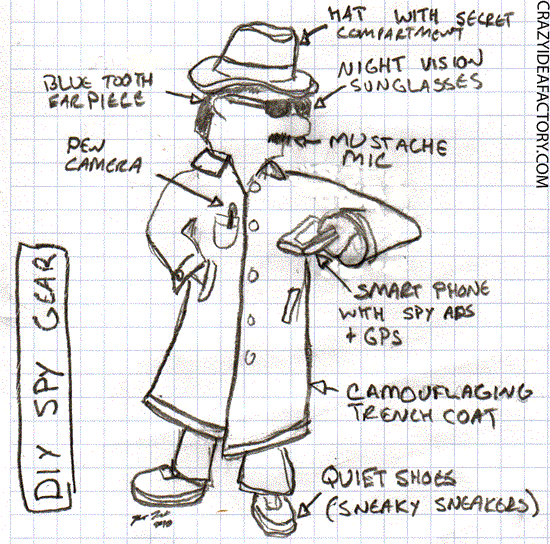 This crazy idea is inspired by the Illustration Friday word of the week, sneaky.
Shoulder angels are the angels that appear on cartoon character's shoulders in order to offer helpful advice and stop the character from making a poor decision.  The problem is that shoulder angels only exist in cartoons.  Shoulder angels should exist in the real world.
Think of all the problems you would avoid if you had a shoulder angel attached to your shoulder that would tell you when you were about to make a bad decision.  I would be like taking your mother with you everywhere you went, except the shoulder angle would have an off button.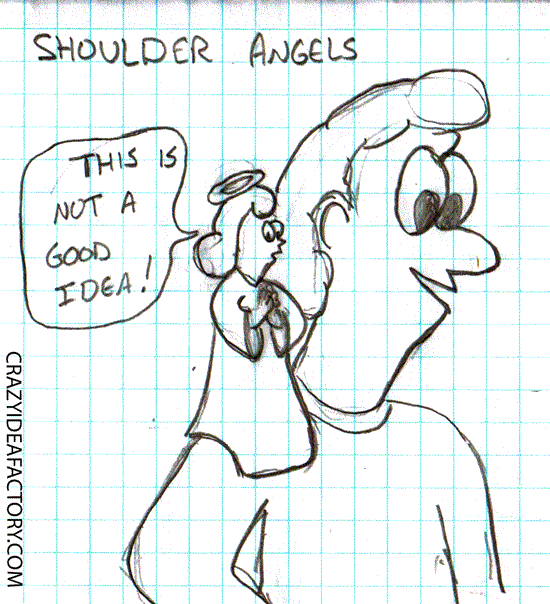 The hard part about buying items online is that you cannot see them in three dimensions.   The biggest craze in the television market today is "3D televisions".  The 3D TV concept should be taken one step further to offer online shoppers a more tactile online shopping experience.   Except they have to get rid of the annoying glasses first.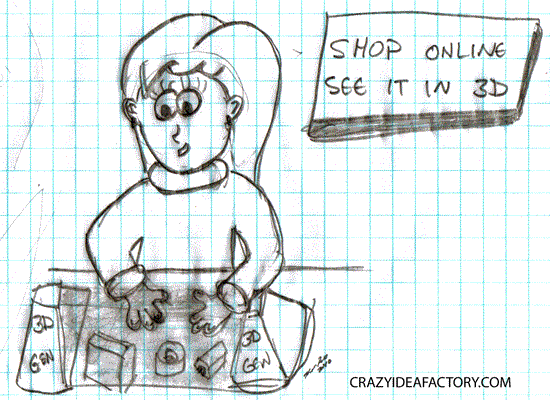 Are you fresh out of glass slippers and pumpkin carriages?   Is your evil stepmother getting on your nerves?  Maybe your Fairy Godmother is busy or overbooked or just not providing the level of service you expect from a Fairy Godmother.  Welcome to Rent-a-Fairy Godmother where you can rent best in class Fairy Godmothers for as little as $99.95 a night.
So the next time your wicked stepsister is attempting to move in on your prince charming don't leave your fate up to birds, mice and an your unreliable Fairy Godmother.  Call Rent-a-Fairy Godmother to schedule your appointment today.  Operators are standing by.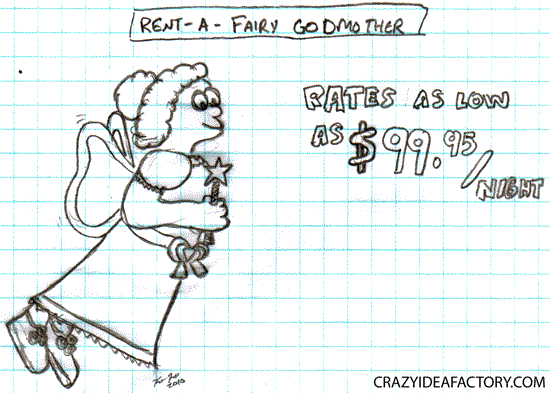 Do you ever get into arguments about what really happened?  Do you forget what you did this morning?  Would you like to have every moment of your life recorded for use in the documentary you're sure they will make about you someday?
If so, you need a personal "Real Life" DVR so that you can record everything that happens to you.  If you don't want to record everything, it would still come in handy for taking notes in class and for documentation of your side of an argument.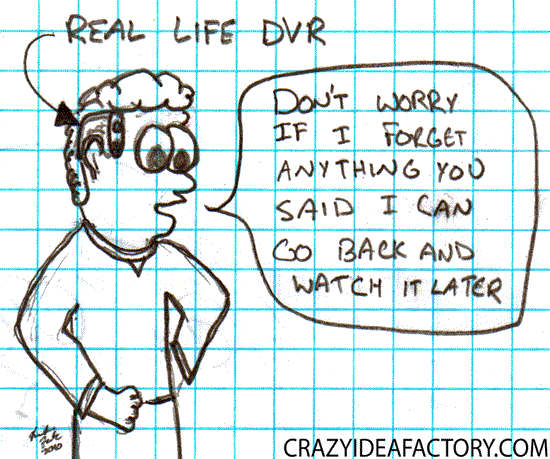 This crazy idea is inspired by the Illustration Friday word of the week, afterwards.
What is the easiest way for governments to create more money?  Why, to print more of it of course.
We as citizens should also be able to print our own money on demand.  Here is my contribution to the print  your own money trend.  If you print it on something valuable, it may actually have value.  Or it might just eliminate the value of what it is printed on.  Either way it is so much cooler than Monopoly money.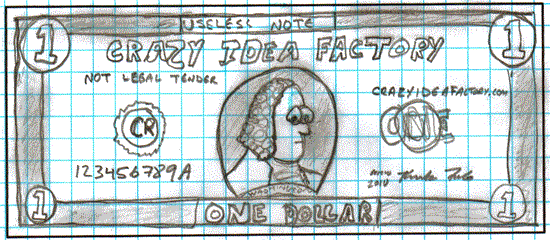 Dogs enjoy watching television, but they have a difficult time using remote controls.  Every good dog should have a remote control built into her dog collar, the remote control would send a signal to the TV that said "If no one else is watching TV, switch to the channel for dogs."
Now we need to develop a way for dogs to use the computer so they can visit crazyideafactory.com.
Do you love to chew your fingernails, but the bad flavor turns you off?  Solve that problem with flavored fingernail candy.
Stick one of these candy-fingernails to your fingernail and you can chew all day and not have to worry about how bad your nails taste.  They also add a little extra nail for you to chew if you have already chewed your nails down all of the way.
Do you ever long for the sweet sound you can only hear from a real set of bagpipes, but you don't know anyone with the skills to play them?  If so you should invest in a set of player bagpipes.  Just like a player piano, turn on the player bagpipes and they will fill your home or fine establishment with wonderful bagpipe music.