Almost everybody has heard of or seen a Roomba, the robotic vacuum that automatically wanders around and cleans the floor.  I think there is a market for a tiny shaver robot that would wander around a man's face in the same fashion a Roomba wanders around a living room.  Just think of the time saved every morning if shaving could be eliminated.  It would also lead to some attention from strangers.  "Excuse me sir, but you have a bug crawling around on your face."  "Ah, no ma'am. That is not a bug; it's my Micro Shaver-Bot."
This one is a natural one. I can't believe it isn't common place today – shoes with built-in pedometers.  Cars have odometers, so you know when to change the oil and so you know how worn out the car may be.  If you sold shoes with built in pedometers you could probably sell people odor changes every 100,000 steps.  It may also help the almost nonexistent used shoe market "Ya, I found a great pair of used shoes the other day; they only had 500,000 steps on 'em."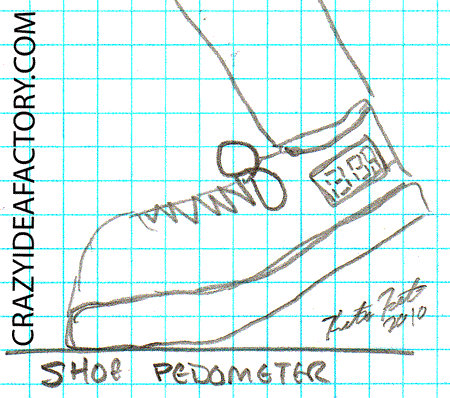 Tired of all of your plants dying?  Don't want fake plastic plants?  Try these digital photo frames mounted in pots.  Display an ever changing beautiful flower garden and never have to water again. Would come preloaded with 100 assorted pictures of flowers if it actually existed.
Hello all. It is the weekend so no new cartoons today. The site has been up and running for a few weeks now and I am having a lot of fun drawing and posting sketches, I hope all of our readers are enjoying the content.
As I try to improve my ability to draw (I need lots of help as you can tell), I have been in search for good quality resources on the web. I have found the Cartoonist-Forum to be an invaluable resource.  The forum has helpful members and a great many tutorials and tips.  If you are interested in cartooning I highly recommend you check out the Cartoonist-Forum.
Also I want to thank thefunnycartoon.com for posting Crazy Idea Factory sketches on their site.
That's all I have for today, I hope everyone has a great week and has fun with some crazy ideas of their own.
For fun I was experimenting at  animoto.com and made this fun video with some of the ideas from the month of June.
When you're driving do you ever get annoyed because you're thirsty and you don't want to stop and buy something to drink?  The In-Car Fountain Drink machine is the solution to your problem.   Just install a drink machine into your dash and you have a beverage whenever you would like one.  This would be excellent if you are in a car pool or if you offer a ride service.  Taxi drivers should think of adding these; they could probably make a profit from thirsty customers.
I like to drink tap water from a bottle, even though I know it may (or may not) have more impurities than regular water.  Hence the need for a screw on water bottle filter.  Just fill up a bottle with standard tap water and the filter takes care of the rest.  Or at least I can believe it does and believing is half the battle.
This is a necessary device for those of you living in areas that do not have the best cell signal.  Pull out the Remote Control Helicopter Cell Signal Booster and get those extra bars you have been needing to finish the conversation.  Of course, if you help someone out with their signal and you find their need for signal was not vital you just flip on your Smart Phone B Gone and end that problem.
Houses in America are so cookie cutter.  If you are feeling like you need to add a little extra flare to your house you should consider adding a drawbridge style front door.  You can try it out for a while and when you are sure you like it go ahead and add that moat you have always wanted.  It is the best solution you can find for keeping away unwanted salesmen.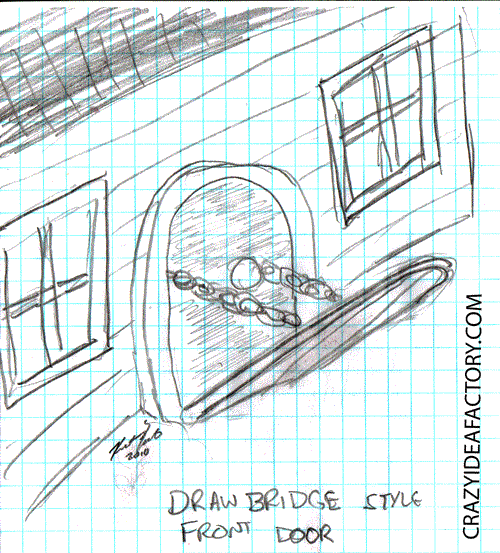 My friend Jon and I were talking about the need for a easy, portable and practical method for getting peanut butter on crackers when we are away from our kitchens.  And that is where the inspiration for the peanut butter in a toothpaste style tube came from.  Now the only question remaining is "Should the tube be clear or colored?"  I say clear.