I know things are frustrating for you right now, but you don't need to pull your own hair out.  That's what the Pull Your Hair Out Wig is for.  When frustration hits just buckle the wigs chin strap and start pulling hair out till you have sufficiently calmed down.  Wear it while learning computer programs, watching your favorite sports team or any time your children are present.  Your real hair will thank  you!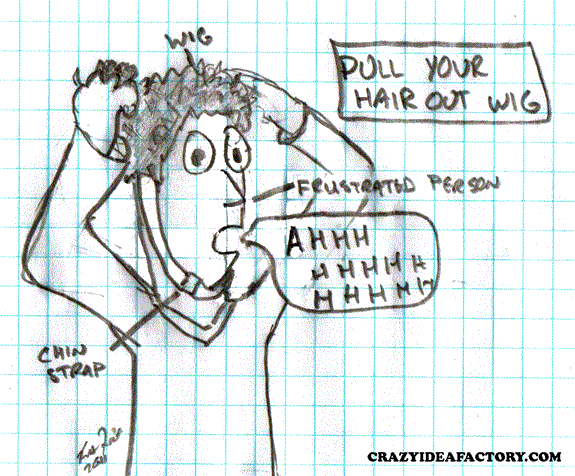 Are you still brushing with an old fashioned tooth brush?  Well, the time to upgrade is now.  You don't have just one tooth, you have teeth!  You need a Teethbrush, it brushes all the teeth in your mouth at once.  It is simple to use, just load it with the special tooth cleaning serum (toothpaste), place it in your mouth and turn it on.  Special vibratory bristle action cleans all of your teeth at once while your hands are free to accomplish other tasks.  Just a cautionary note though, it does cause excessive drooling so you may want to keep a towel handy.
A ring that is also a fork.  It's practical, it's fashionable and I can't imagine who wouldn't want one.
I know I do not like my coffee quite as hot as it is when it comes out of the coffee maker, but I don't know what temperature that is.  I like my coffee black with a PH of 6, but I usually don't know what the actual PH level is.  I try not to drink more than 16 ounces of coffee a day, but I am not sure if I drink more sometimes.
I need a smarter coffee mug.  The Info-Mug, it tells me the temperature of my coffee so I know when it's ready to drink.  It tells me the PH of my coffee so I will know if anyone has added anything funny to my coffee and it tells me how much coffee is in my mug so I know how much coffee I am drinking.  The Info-Mug has the answer to all of my coffee cup questions.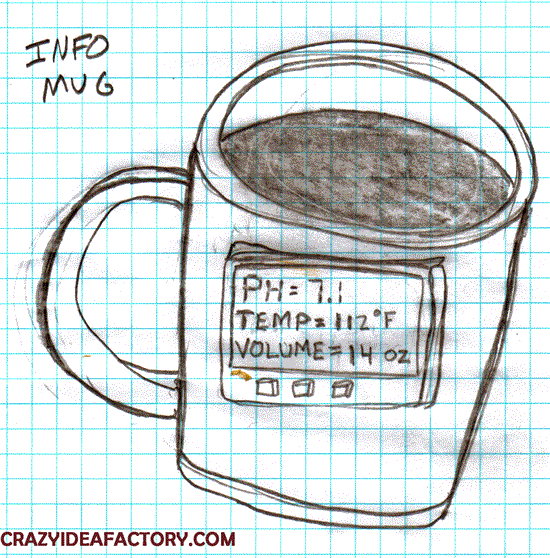 I am excited to announce the release of our new Crazy Idea Factory book, 101 Crazy Ideas.  The book contains much of the same content you have grown to love on the Crazy Idea Factory Website except it is printed on paper with a lovely cover!  Get yours today!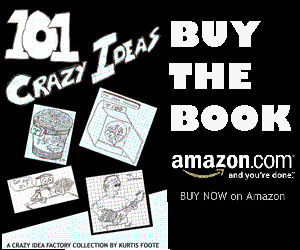 Are you embarrassed that whenever you need to do a complicated math problem?  Do you end up needing to remove your shoes so you can count on your toes when adding and subtracting large numbers?
With the "Shoes You Can Count On" you will never have to display those disgusting toes of yours in public ever again.  Instead of exposing everyone around you to that dangerous foot odor of yours you just slide the beads built into the toes of the shoes. You shoes will work like a good old fashioned abacus.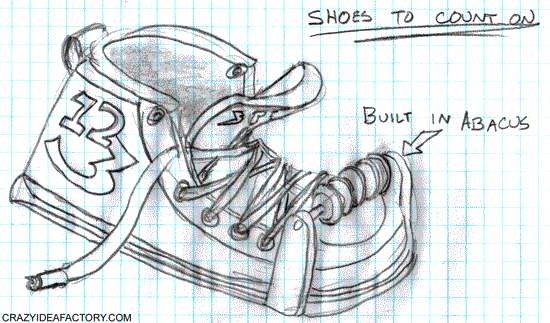 Now that the holiday season is in full swing many refrigerators are beginning to overflow with too many leftovers.  Most of those leftovers will go uneaten unless you have a Leftoverinator.
Ham, turkey, tofurkey, yams, spinach, potatoes, whatever your leftover may be dump it into the Leftoverinator.  The Leftoverinator uses a patented process to dehydrate, reformulate and preserve your leftovers as tasty leftover patties.  Don't worry about the flavor.  No matter what you dump into the Leftoverinator it will come out as patty that tastes just like chicken.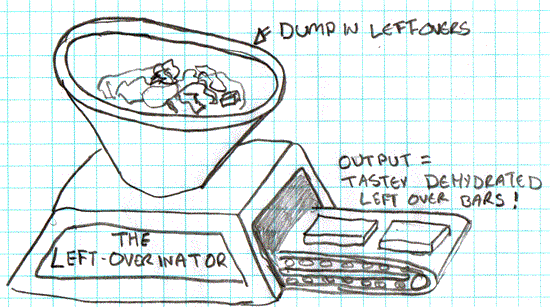 So you have a family member that is always trying to figure out what gift he or she has been given?  Maybe that same family member will peel back the wrapping paper when no one is looking and discover what the present is ahead of time.
To defeat gift snoopers you need a password protected gift box.  Insert the gift, set the combination and keep the combination a secret until it is time to open the gifts.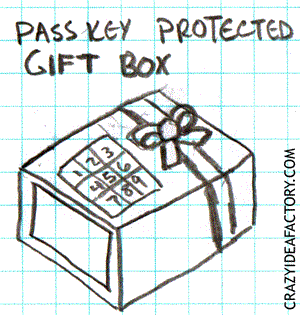 Installing Christmas lights can be a lot of work.  Untangling string upon messy string of lights.  Climbing up rickety old ladders and standing on icy roofs.
Putting up Christmas lights would be so much more fun with a Christmas Light Shooter.  Just fire away at any part of the house you want to decorate.  The lights stick because they are surrounded by a sticky jelly.  No cords required because the lights are all individual, solar powered (with battery) leds.  To take the lights down you just have to peel them off.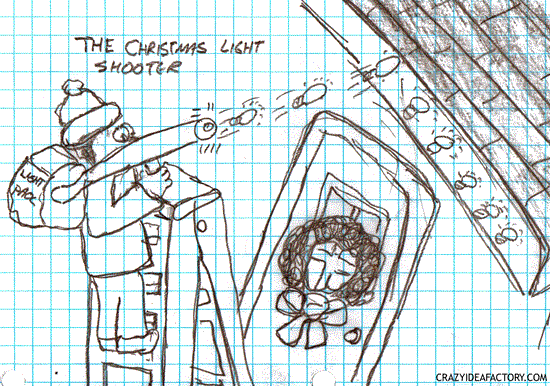 Gift Wrapping season has now begun!  After you have spent too much money buying presents the real work begins.  You could just wimp out and use gift bags, but your not that kind of gift giver.  You need to feel the rush of watching a 4 year old rip paper off without even noticing the well placed bows and intricate ribbons.
Any real gift wrapper knows every piece of tape placed on a package must be exactly 0.875 inches (2.22 cm)  in length otherwise the wrapping will be ruined.  The Tape Measure will save your artistic wrappings from certain doom by supplying cellophane tape at any length you so desire (including 0.875 inches).