Sweaty, yellow, wet armpit stains may have met their match.  The Armpit Pad is a lightweight, comfortable pad that will cling to the armpit of any shirt.  Instead of applying deodorant once a day, the Armpit pad employs a sophisticated time release deodorant system keeping you supplied with deodorant all day long.  The Armpit Pad is also lined with a special moisture absorbing layer to soak up all the sweat that might make it through, working like a diaper for your armpit.
With the Armpit Pad no one will ever say "look at that guy with the yellow, stinky pit stains" again.  But they might say "look at that guy with the diaper things suck in his armpits" and isn't that so much better to hear?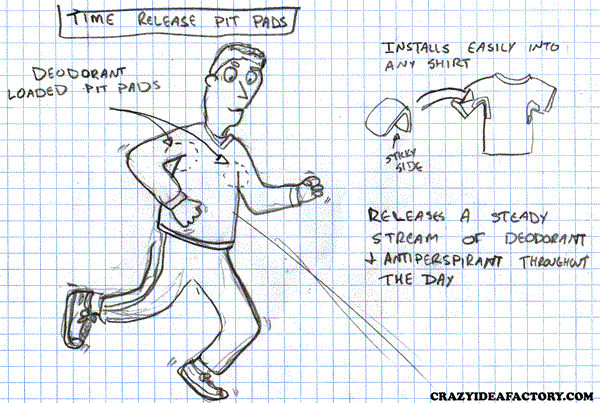 Sometimes your just not sure if your kid's diaper is wet or not and you don't want to walk all the way over and disrupt them  just to check.  That is why you need the "Soaked Siren" diaper alarm.  It sounds out an annoying alarm whenever the baby is wet.
This invention is also great for making sure dad will actually change diapers when he has the kids because listening to the alarm is much worse than changing a diaper.
This crazy idea is inspired by the Illustration Friday word of the week, soaked.
Often times during cold weather you are forced to go back and forth between cold and warm temperatures.  If you stay all bundled up while going from hot to cold you end up sweating in the hot only to have that sweat make you colder when you get back into the cold temperatures.  If you try to go in and out with not enough clothes on you just end up freezing.  Either way you are going to get yourself sick.
The solution is a constant temperature coat.  The coat is lined with a liquid temperature regulation system that will keep your temperature "just right" no matter the surrounding temperature.