I know things are frustrating for you right now, but you don't need to pull your own hair out.  That's what the Pull Your Hair Out Wig is for.  When frustration hits just buckle the wigs chin strap and start pulling hair out till you have sufficiently calmed down.  Wear it while learning computer programs, watching your favorite sports team or any time your children are present.  Your real hair will thank  you!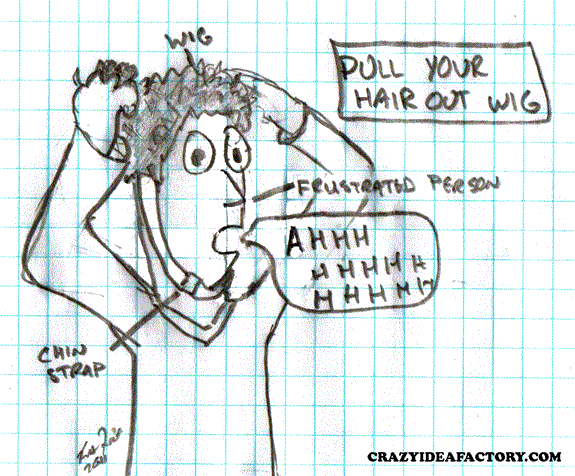 Sweaty, yellow, wet armpit stains may have met their match.  The Armpit Pad is a lightweight, comfortable pad that will cling to the armpit of any shirt.  Instead of applying deodorant once a day, the Armpit pad employs a sophisticated time release deodorant system keeping you supplied with deodorant all day long.  The Armpit Pad is also lined with a special moisture absorbing layer to soak up all the sweat that might make it through, working like a diaper for your armpit.
With the Armpit Pad no one will ever say "look at that guy with the yellow, stinky pit stains" again.  But they might say "look at that guy with the diaper things suck in his armpits" and isn't that so much better to hear?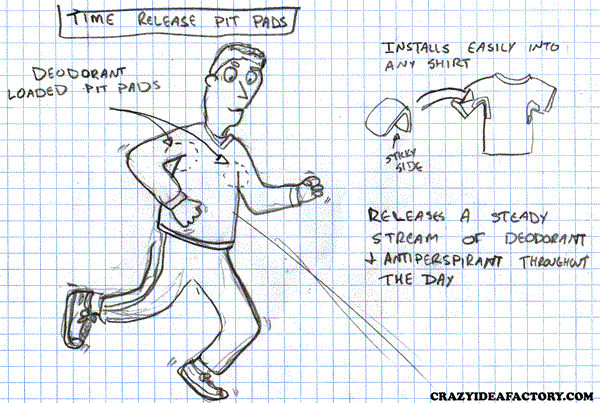 Are you still brushing with an old fashioned tooth brush?  Well, the time to upgrade is now.  You don't have just one tooth, you have teeth!  You need a Teethbrush, it brushes all the teeth in your mouth at once.  It is simple to use, just load it with the special tooth cleaning serum (toothpaste), place it in your mouth and turn it on.  Special vibratory bristle action cleans all of your teeth at once while your hands are free to accomplish other tasks.  Just a cautionary note though, it does cause excessive drooling so you may want to keep a towel handy.
It has long been considered bad form to wipe your nose on your sleeve, but that conflicts with the natural instinct to use the forearm to wipe your nose.
Why fight the urge?  Get yourself the "Sleeve Wiper". The "Sleeve Wiper" is a stack of tissues attached to your forearm.  Wipe away the snot, peel off the soiled tissue layer and you are ready for the next runny nose situation.  Great if you have a cold, kids or just enjoy more stuff strapped to your arm.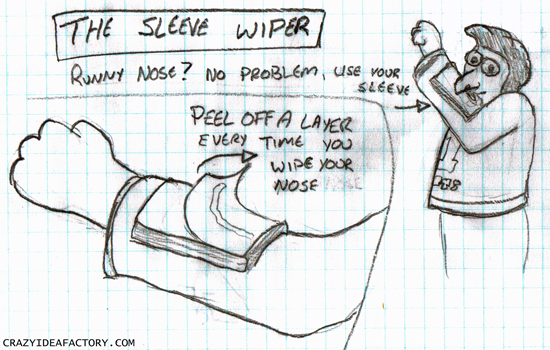 I get tired of taking all the extra time to find my toothbrush and tube of toothpaste, and then after I find them going through all the hassle to squirt the toothpaste onto the toothbrush in a perfect toothpaste shape onto the toothbrush.  The toothbrush and toothpaste combo builds a tube of toothpaste into the handle of a toothbrush.  With the toothbrush and toothpaste combo you can give a little extra squeeze if you need a little extra toothpaste in tomorrow mornings brushing.