If you have ever wanted to change the looks of your house without actually changing any part of your house you may be interested in the House Billboard.  Just page through the 500 page catalog pick out the House Billboard you want and it is shipped directly to your door.
The house billboard is also great for covering up all of those foreclosed properties in the neighborhood.  Drivers by won't even notice the lawn hasn't been mowed or that all of the widows have been broken.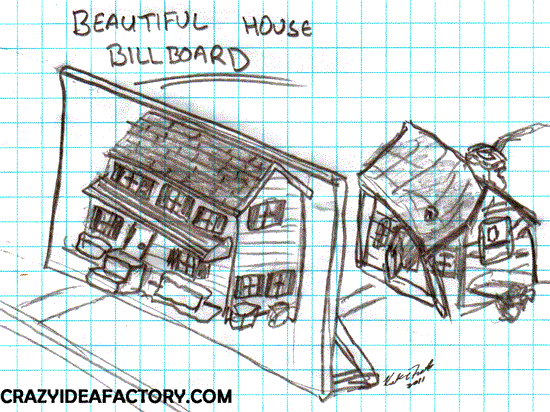 No need to travel to the far reaches of Africa for a safari, the office cubicle is just as interesting and dangerous.  See engineers, accountants, analysts and interns all in their natural habitat.  Wander down to the coffee machine to observe communication and socialization.  Just be careful to avoid the red-faced manager, that species can get mighty cranky.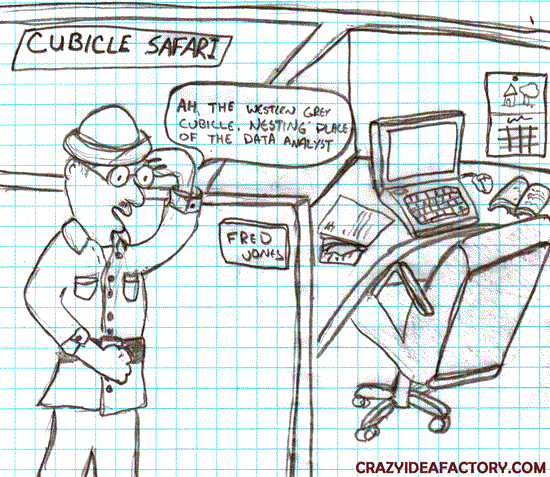 This crazy idea is inspired by the Illustration Friday word of the week, safari.
This crazy idea is inspired by the Illustration Friday word of the week, warning.
In an effort to help improve and simplify the world of warning labels I have attempted a rather generic warning label of my own.  Let me know what else you think should be added.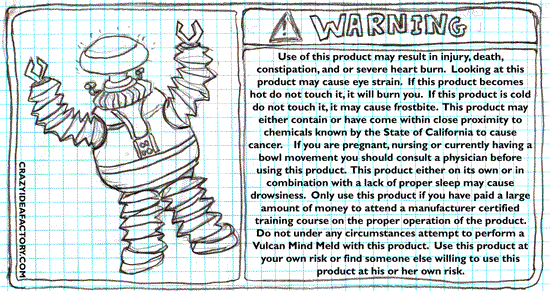 Use of this product may result in injury, death, constipation, and or severe heart burn.  Looking at this product may cause eye strain.  If this product becomes hot do not touch it, it will burn you.  If this product is cold do not touch it, it may cause frostbite.  This product may either contain or have come within close proximity to chemicals known by the State of California to cause cancer.    If you are pregnant, nursing or currently having a bowl movement you should consult a physician before using this product.  This product either on its own or in combination with a lack of proper sleep may cause drowsiness.  Only use this product if you have paid a large amount of money to attend a manufacturer certified training course on the proper operation of the product.  Do not under any circumstances attempt to perform a Vulcan Mind Meld with this product.  Use this product at your own risk or find someone else willing to use this product at his or her own risk.
Where do groundhogs learn how to predict how much longer winter will last?
Groundhog Meteorological School of course.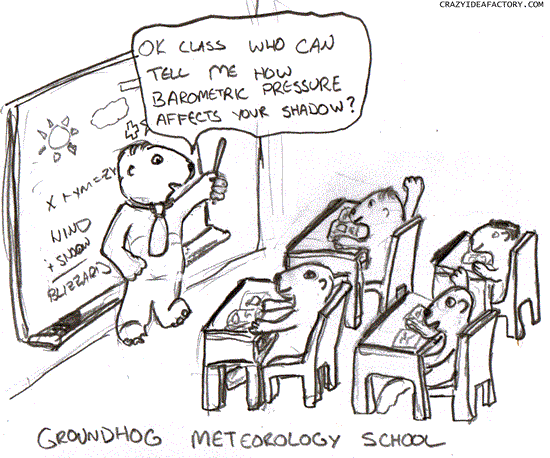 Instead of listening to the same scripted excuse as to why raises aren't going to be what you expect, just press the "surrender button" and let your boss get back to planning what he is going to do with the incredibly large bonus he is getting…..or fight back???….na.
This crazy idea is inspired by the Illustration Friday word of the week, surrender.
It has long been considered bad form to wipe your nose on your sleeve, but that conflicts with the natural instinct to use the forearm to wipe your nose.
Why fight the urge?  Get yourself the "Sleeve Wiper". The "Sleeve Wiper" is a stack of tissues attached to your forearm.  Wipe away the snot, peel off the soiled tissue layer and you are ready for the next runny nose situation.  Great if you have a cold, kids or just enjoy more stuff strapped to your arm.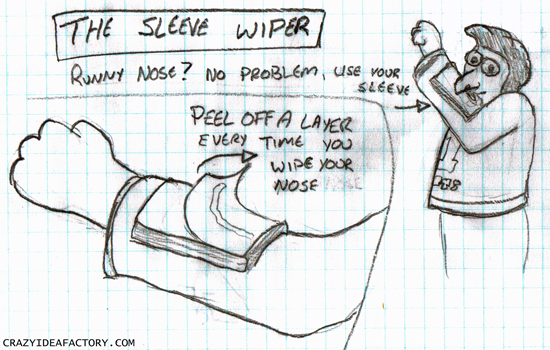 Are you a habitual pen chewer?  Do you hate the taste of plastic while chewing your pen?  Are you tired of all the bite marks on your pen?
Then you need a "Pen Made For Chewing"  this pen works just like any other pen except it has a hole in the top for dropping  a sucker into.  Buy a bag of suckers slide one into the end of the pen and you are on your way to a much more enjoyable pen chewing experience.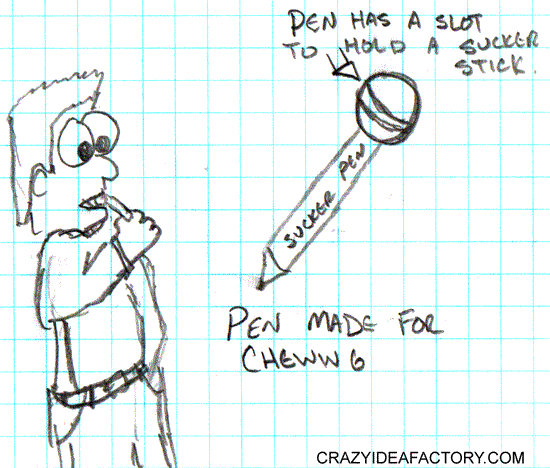 I would like to wish everyone a Merry Christmas and Happy Holidays!!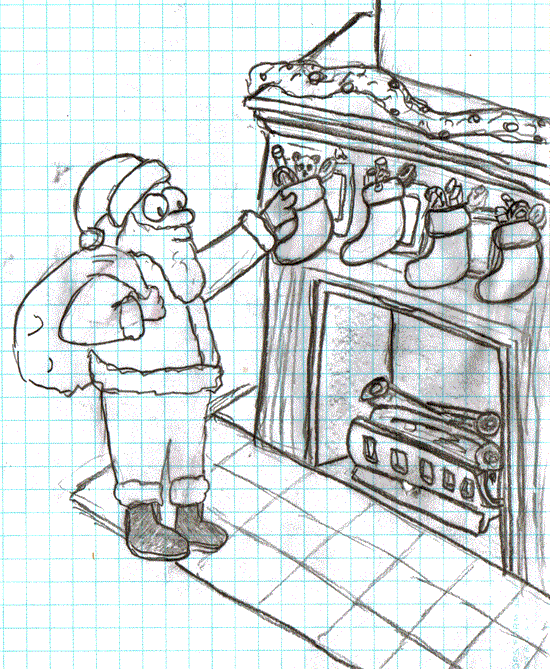 Santa has a lot to do on Christmas Eve, so he needs his milk and cookies laid out efficiently for him.  What could be more efficient than cookies and milk already mixed up and put into a soda can?  Santa can even bring the can with him and drink it on the sleigh ride to the next house.
It sounds like a tasty idea to me – I might take a few cans myself.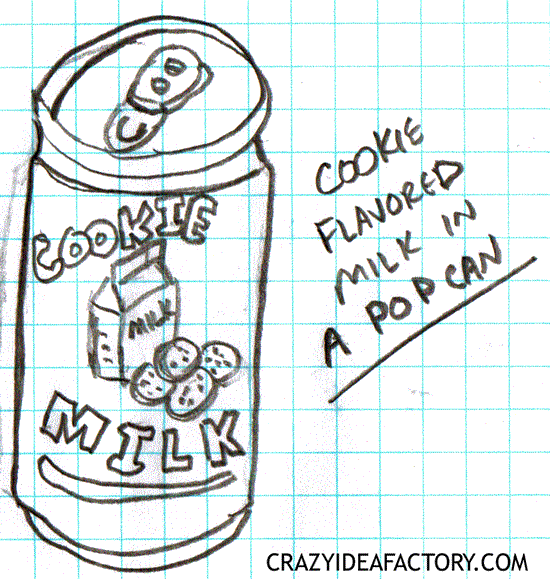 Shoulder angels are the angels that appear on cartoon character's shoulders in order to offer helpful advice and stop the character from making a poor decision.  The problem is that shoulder angels only exist in cartoons.  Shoulder angels should exist in the real world.
Think of all the problems you would avoid if you had a shoulder angel attached to your shoulder that would tell you when you were about to make a bad decision.  I would be like taking your mother with you everywhere you went, except the shoulder angle would have an off button.