Where do groundhogs learn how to predict how much longer winter will last?
Groundhog Meteorological School of course.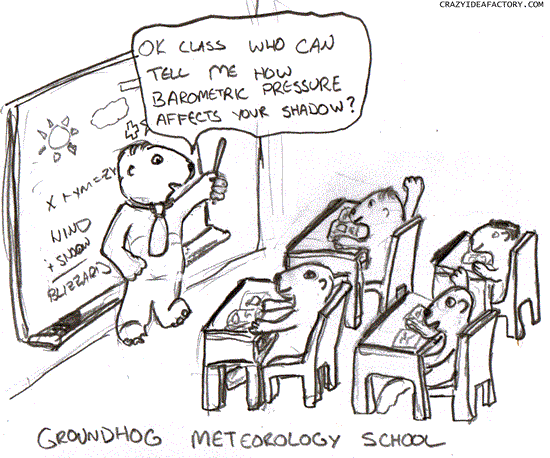 Are you embarrassed that whenever you need to do a complicated math problem?  Do you end up needing to remove your shoes so you can count on your toes when adding and subtracting large numbers?
With the "Shoes You Can Count On" you will never have to display those disgusting toes of yours in public ever again.  Instead of exposing everyone around you to that dangerous foot odor of yours you just slide the beads built into the toes of the shoes. You shoes will work like a good old fashioned abacus.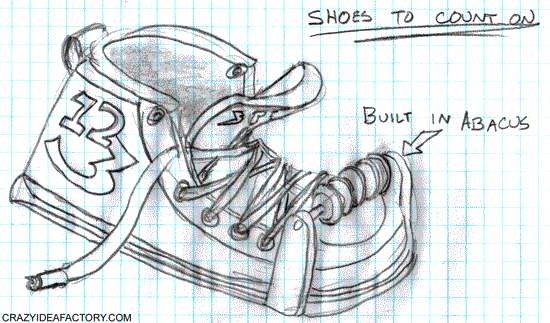 Santa may know if your child has been bad or good, but you might not always know.    The Naughty or Nice Meter will give "Santa like" naughty or nice knowledge to any parent.
With the Naughty or Nice Meter your child gets to wear a really cool temporary tattoo.   The tattoo is actually a sophisticated behavior sensor with a built in RFID transmitter.
As a parent you have a hand held Naughty or Nice Meter that reads the RFID signal from your child's tattoo.  To find out if your child is behaving when out of your sight, you just check your Naughty or Nice meter.  If the level has gone up you will know some suspicious activity has taken place.
Santa may also want to consider one of these.  His system is at least a few hundred years old – it might be time for an upgrade.
Someday, years from now I want my children and grandchildren to think I was tough, that things were so much harder when I was young.  But, the problem is I never had to walk 30 miles to school during the coldest winter in history.  And I don't remember ever having to walk to school up hill both ways.
To remedy this I propose building a "tough camp" where the camper must do things like walk up hill both ways to school, wrestle  grizzly bears, and buy bottles of Coca-Cola for a nickle.  Then after attending the "tough camp" attendees will be able to make extreme sounding statements about things that happened at "tough camp".
This crazy idea is inspired by the Illustration Friday phrase of the week, old-fashioned.