Do you ever long for the sweet sound you can only hear from a real set of bagpipes, but you don't know anyone with the skills to play them?  If so you should invest in a set of player bagpipes.  Just like a player piano, turn on the player bagpipes and they will fill your home or fine establishment with wonderful bagpipe music.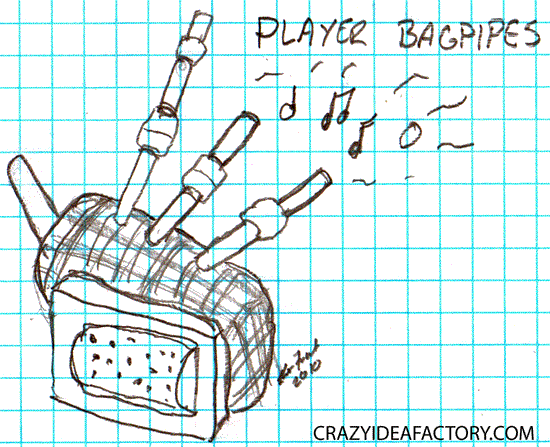 Theme music makes everyone cooler.  Just think how much more fun it would be if your own personal theme song was playing the next time you are out for a walk, or shopping at the grocery store.
That theme music dream of yours can happen with the "Playin Your Theme Sneakers".  These are shoes with built in speakers that will blast your personal theme song every time you take a step.  Now go out pick up a flashy new outfit, learn some martial arts moves and you will be staring in own TV show in no time.
I am sure all of our readers went out fabricated their own Guitordians and are on the road to fame and stardom.  If your starting your crazy idea band and the Guitordian isn't quite enough for you, you should think about adding a Harpsarumpet to the group.
What more do you need for a unique and interesting sound than the combination of a harpsichord and a trumpet.  I am surprised these haven't been invented already.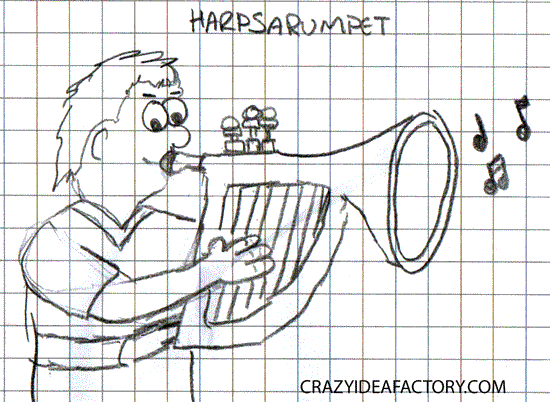 I did it, I submitted a sketch to the Dueling Banjo Pigs website.  I love the site, it is a crazy idea all by itself with lots of great Banjo Pig cartoons from some really great illustrators and artists.
My favorite Banjo pig of all is not a cartoon Banjo Pig it is an Automaton Banjo Pig made by Guy Francis (one of the Dueling Banjo Pig founders).
The Youtube video of the automaton is below and for more info on the project visit Guy's site http://kactiguy.blogspot.com/2010/08/banjo-pig-automaton.html

Unfortunately the accordion is a forgotten instrument.  Not too many bands have members rock out on accordions.  Accordions just don't seem to have the drawing power of guitars, keyboards and drums.
The Guitordian changes all of that!  The Guitordian is a marriage of the guitar and the accordion. The Guitordian could possibly reinvent the sound of modern music.  I can see stadiums sold out to see the Polka Rock reinvention band Larry and the Kickin Guitordians.  Wierd Al Yankovic will always be known as the godfather of Polka Rock!