I know things are frustrating for you right now, but you don't need to pull your own hair out.  That's what the Pull Your Hair Out Wig is for.  When frustration hits just buckle the wigs chin strap and start pulling hair out till you have sufficiently calmed down.  Wear it while learning computer programs, watching your favorite sports team or any time your children are present.  Your real hair will thank  you!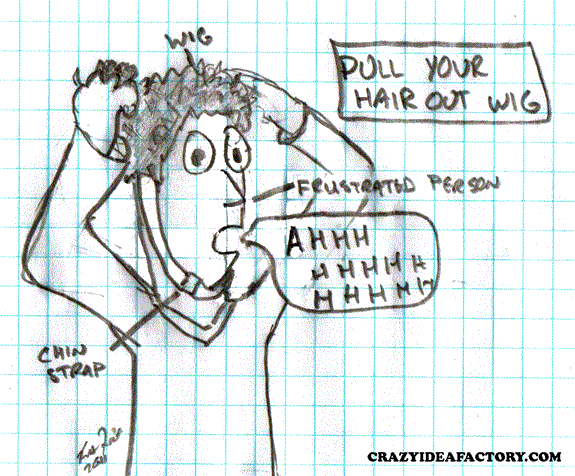 No need to travel to the far reaches of Africa for a safari, the office cubicle is just as interesting and dangerous.  See engineers, accountants, analysts and interns all in their natural habitat.  Wander down to the coffee machine to observe communication and socialization.  Just be careful to avoid the red-faced manager, that species can get mighty cranky.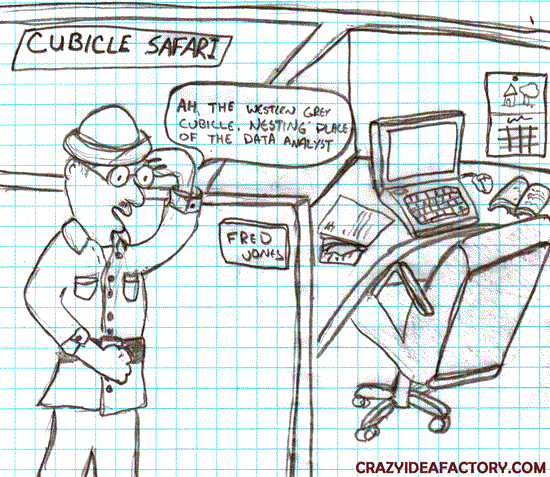 This crazy idea is inspired by the Illustration Friday word of the week, safari.
Well this week is "Bike to Work Week" and actually May is "Bike Month".  Biking is great, but unfortunately because of geographic and time issues many of us are unable to bike to work.  For those unable to bike to work this week, I propose adding an "or make your bike work" clause to bike to work week.  With the "or make your bike work" clause workers unable to actually bike to work can use their ingenuity to come up with clever ways to make their bikes work.
I have included two potential ideas to "make your bike work" in today's sketch.  One is to power your computer using a bike generator.  The other idea is tailored toward management, it uses the bike wheel to help managers decide what employee raises should be.  There are millions more ways to make your bike work so I suggest you get out there and find new ways to make your bike work this week.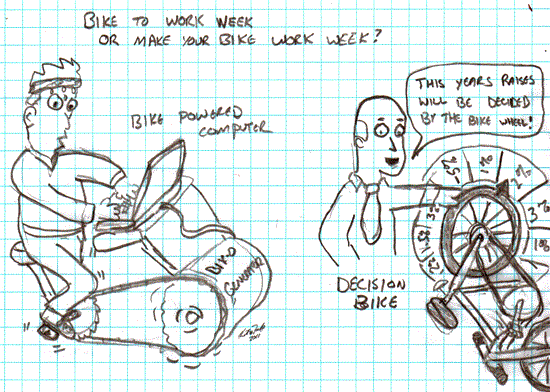 Where do groundhogs learn how to predict how much longer winter will last?
Groundhog Meteorological School of course.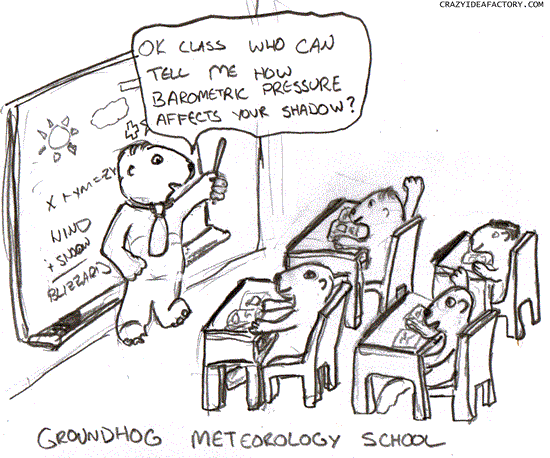 It has long been considered bad form to wipe your nose on your sleeve, but that conflicts with the natural instinct to use the forearm to wipe your nose.
Why fight the urge?  Get yourself the "Sleeve Wiper". The "Sleeve Wiper" is a stack of tissues attached to your forearm.  Wipe away the snot, peel off the soiled tissue layer and you are ready for the next runny nose situation.  Great if you have a cold, kids or just enjoy more stuff strapped to your arm.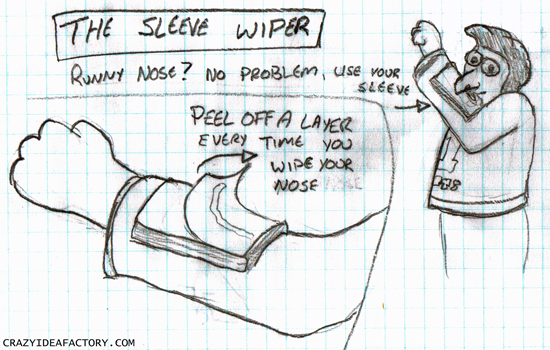 Are you a habitual pen chewer?  Do you hate the taste of plastic while chewing your pen?  Are you tired of all the bite marks on your pen?
Then you need a "Pen Made For Chewing"  this pen works just like any other pen except it has a hole in the top for dropping  a sucker into.  Buy a bag of suckers slide one into the end of the pen and you are on your way to a much more enjoyable pen chewing experience.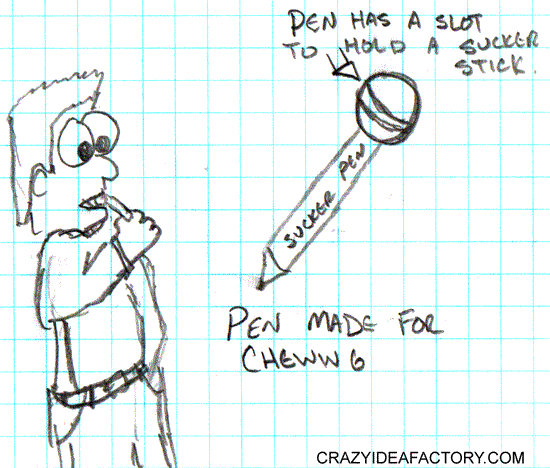 Are you embarrassed that whenever you need to do a complicated math problem?  Do you end up needing to remove your shoes so you can count on your toes when adding and subtracting large numbers?
With the "Shoes You Can Count On" you will never have to display those disgusting toes of yours in public ever again.  Instead of exposing everyone around you to that dangerous foot odor of yours you just slide the beads built into the toes of the shoes. You shoes will work like a good old fashioned abacus.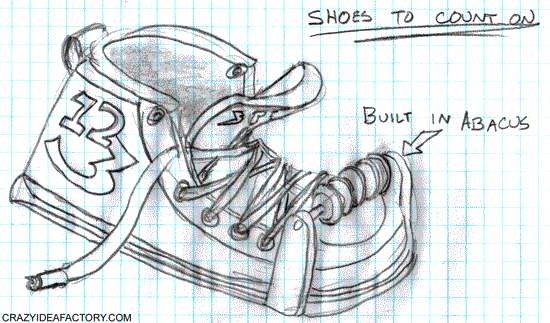 Now that the holiday season is in full swing many refrigerators are beginning to overflow with too many leftovers.  Most of those leftovers will go uneaten unless you have a Leftoverinator.
Ham, turkey, tofurkey, yams, spinach, potatoes, whatever your leftover may be dump it into the Leftoverinator.  The Leftoverinator uses a patented process to dehydrate, reformulate and preserve your leftovers as tasty leftover patties.  Don't worry about the flavor.  No matter what you dump into the Leftoverinator it will come out as patty that tastes just like chicken.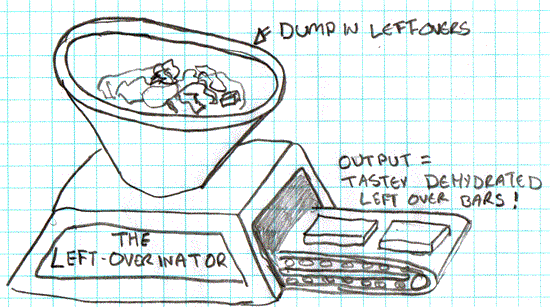 Santa has a lot to do on Christmas Eve, so he needs his milk and cookies laid out efficiently for him.  What could be more efficient than cookies and milk already mixed up and put into a soda can?  Santa can even bring the can with him and drink it on the sleigh ride to the next house.
It sounds like a tasty idea to me – I might take a few cans myself.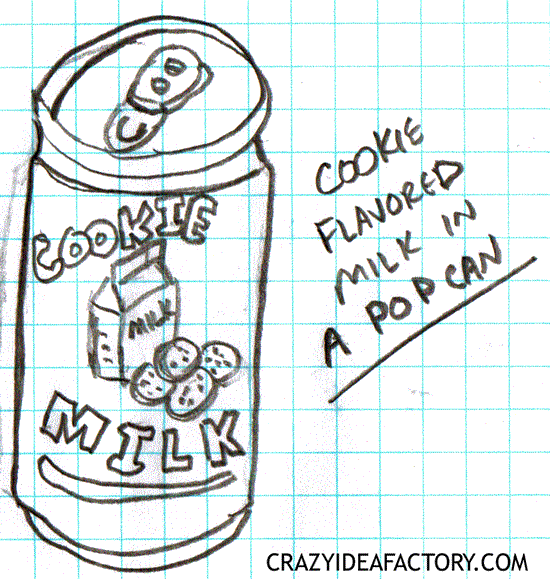 So you have a family member that is always trying to figure out what gift he or she has been given?  Maybe that same family member will peel back the wrapping paper when no one is looking and discover what the present is ahead of time.
To defeat gift snoopers you need a password protected gift box.  Insert the gift, set the combination and keep the combination a secret until it is time to open the gifts.