Our friend in the sketch below has devoted his life to becoming the worlds expert on hardened, crusty, white school glue.  While many would wonder why one would want to become an expert on such a thing he took the initiative on the subject matter.  If he was a real person he could now set up a web page devoted to hardened, crusty, white school glue and you could read all about it and become an expert.  Just remember your niche is out there, if you have the drive you can become the worlds expert on such uninteresting things as drying paint, nails that look like potatoes or everybody's favorite, chewed chewing gum collections.
Paper business cards are boring, everybody has one.  You need something that gets attention when you hand out your business card.  Today's idea is to make a business card with a small LCD screen displaying your information continuously.  It also operates on solar power just like a calculator.  Maybe it could have a calculator built into the back so people would keep your business card in use all of the time as a calculator.  So the next time your potential client was adding up a few numbers she would think of you, her favorite vacuum salesman.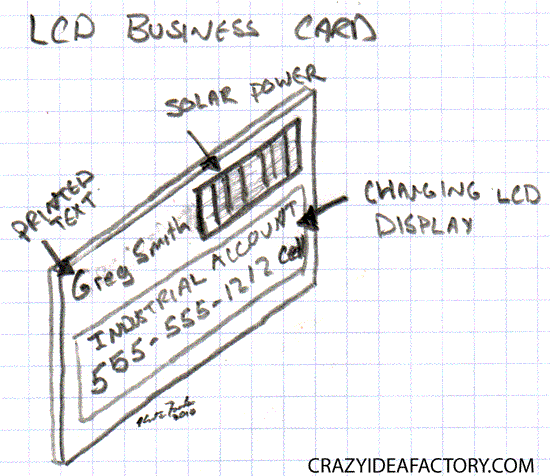 I am sure all of our readers went out fabricated their own Guitordians and are on the road to fame and stardom.  If your starting your crazy idea band and the Guitordian isn't quite enough for you, you should think about adding a Harpsarumpet to the group.
What more do you need for a unique and interesting sound than the combination of a harpsichord and a trumpet.  I am surprised these haven't been invented already.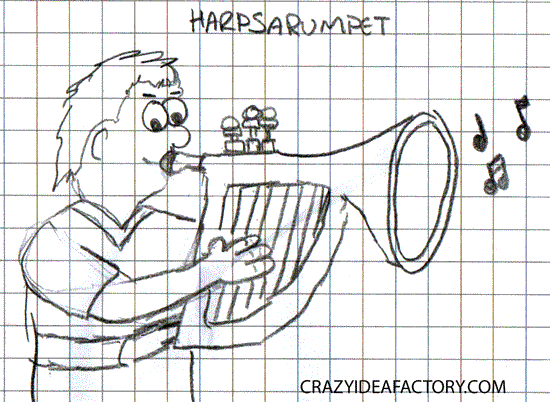 This crazy idea is inspired by the Illustration Friday word of the week, double.
Are you running short on vacation days?  Do  you need to be in two places at once?  Or, do you just need to get away from your desk for a little while?
If you answered yes to any of those questions you need a "Robo-Double".
Face it, what you do at work probably isn't as complicated as you make it seem to all of your friends.  Robo-Double comes pre-programed with many of the most common business tasks you probably do everyday.   Such as check email, look at Blackberry for more email, tell bad jokes, open random important looking documents, type random things, search the internet for useless things, and answer the phone with standard "I'm sorry, I just have too much on my plate right now" response.
If needed you can also add the upgrade package for meetings and presentations.
Customer Testimony from "John Doedery"
"I was working my tail off 80 hours a week and my career was going nowhere.  Until I purchased the Robo-Double.  Now I haven't been to work for 3 months but I have been promoted 4 times and my salary has trippled!  Thanks Robo-Double."
Get yours today.