I know things are frustrating for you right now, but you don't need to pull your own hair out.  That's what the Pull Your Hair Out Wig is for.  When frustration hits just buckle the wigs chin strap and start pulling hair out till you have sufficiently calmed down.  Wear it while learning computer programs, watching your favorite sports team or any time your children are present.  Your real hair will thank  you!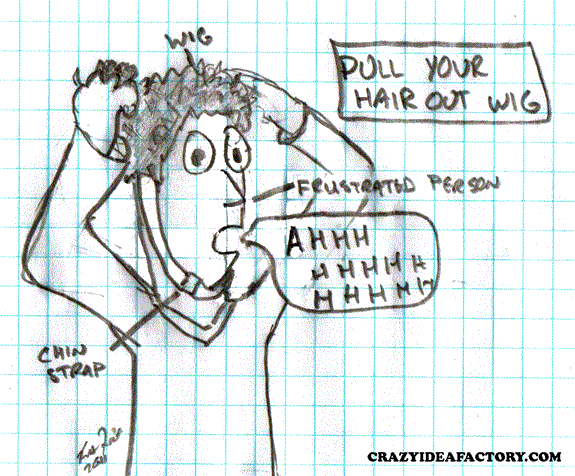 No need to travel to the far reaches of Africa for a safari, the office cubicle is just as interesting and dangerous.  See engineers, accountants, analysts and interns all in their natural habitat.  Wander down to the coffee machine to observe communication and socialization.  Just be careful to avoid the red-faced manager, that species can get mighty cranky.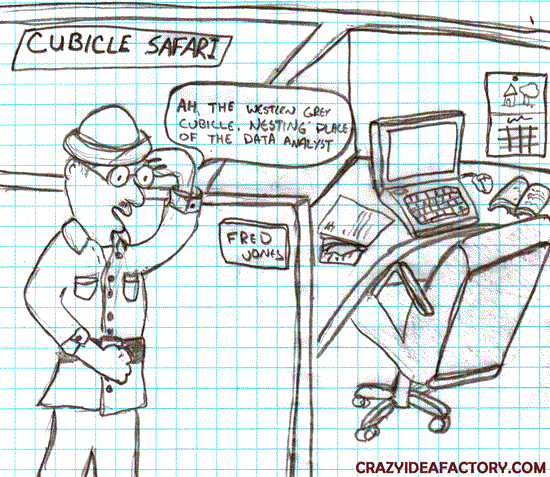 This crazy idea is inspired by the Illustration Friday word of the week, safari.
Well this week is "Bike to Work Week" and actually May is "Bike Month".  Biking is great, but unfortunately because of geographic and time issues many of us are unable to bike to work.  For those unable to bike to work this week, I propose adding an "or make your bike work" clause to bike to work week.  With the "or make your bike work" clause workers unable to actually bike to work can use their ingenuity to come up with clever ways to make their bikes work.
I have included two potential ideas to "make your bike work" in today's sketch.  One is to power your computer using a bike generator.  The other idea is tailored toward management, it uses the bike wheel to help managers decide what employee raises should be.  There are millions more ways to make your bike work so I suggest you get out there and find new ways to make your bike work this week.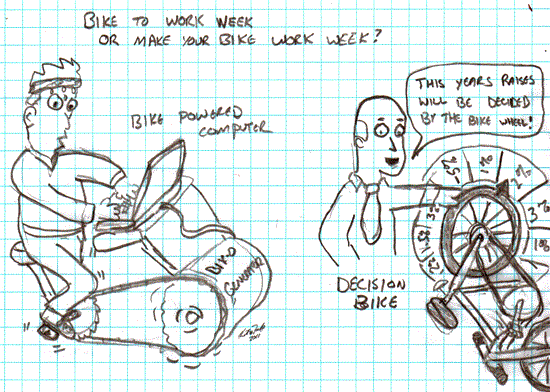 Instead of listening to the same scripted excuse as to why raises aren't going to be what you expect, just press the "surrender button" and let your boss get back to planning what he is going to do with the incredibly large bonus he is getting…..or fight back???….na.
This crazy idea is inspired by the Illustration Friday word of the week, surrender.
No longer do you have to be a member of an exclusive government organization in order to be a spy, modern technology has made it possible for anyone to be a spy.  All you need are the right gadget accessories along with a mysterious coat, hat and sunglasses.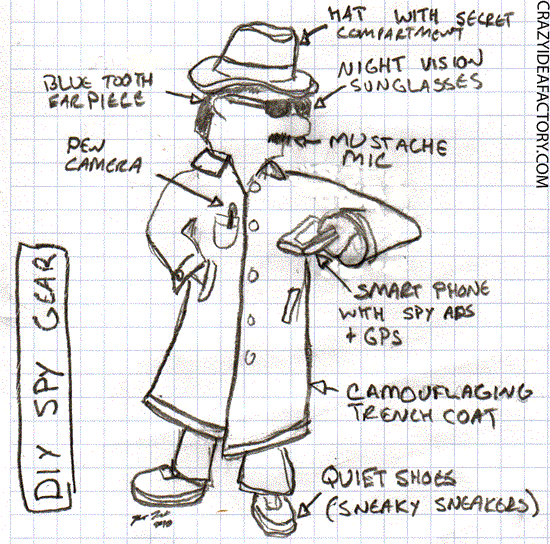 This crazy idea is inspired by the Illustration Friday word of the week, sneaky.
Shoulder angels are the angels that appear on cartoon character's shoulders in order to offer helpful advice and stop the character from making a poor decision.  The problem is that shoulder angels only exist in cartoons.  Shoulder angels should exist in the real world.
Think of all the problems you would avoid if you had a shoulder angel attached to your shoulder that would tell you when you were about to make a bad decision.  I would be like taking your mother with you everywhere you went, except the shoulder angle would have an off button.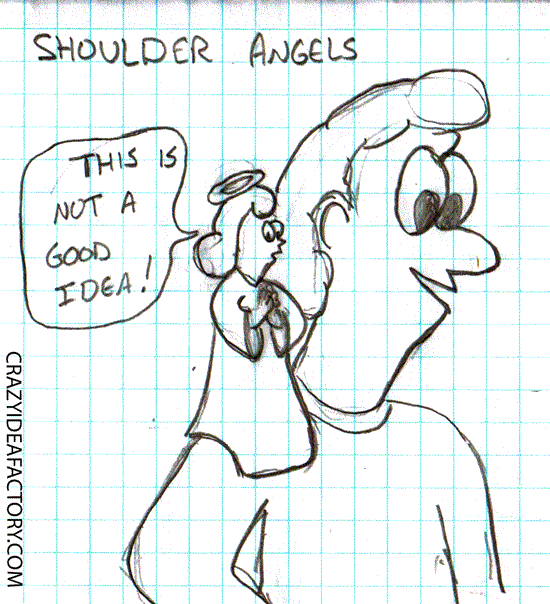 Are you fresh out of glass slippers and pumpkin carriages?   Is your evil stepmother getting on your nerves?  Maybe your Fairy Godmother is busy or overbooked or just not providing the level of service you expect from a Fairy Godmother.  Welcome to Rent-a-Fairy Godmother where you can rent best in class Fairy Godmothers for as little as $99.95 a night.
So the next time your wicked stepsister is attempting to move in on your prince charming don't leave your fate up to birds, mice and an your unreliable Fairy Godmother.  Call Rent-a-Fairy Godmother to schedule your appointment today.  Operators are standing by.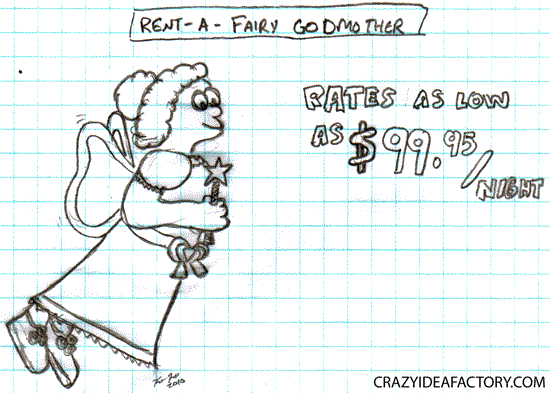 Cars are getting pretty great these days.  Your car can talk to your phone and mp3 players.  You can drive on run-flat tires, and GPS is almost a standard feature.  But automakers have not ventured too far from the standard automotive design, meaning my car doesn't help me get to work any earlier in the morning.
I am talking about my car doing things to help me get ready faster in the morning.  For starters it should brush my teeth and comb my hair.  Then I would like it if my car gave me a back massage and a little pep talk to help start the day out right.
This crazy idea is inspired by the Illustration Friday word of the week, transportation.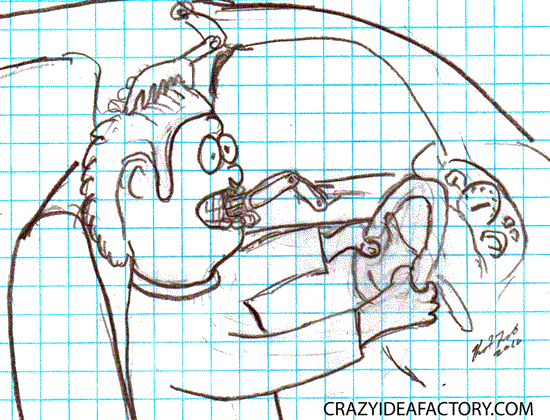 Do you dream of performing death defying stunts in midair?  Are you an accountant or are you thinking of becoming an accountant, but you want to add a little more flare to set yourself apart from other accountants?   You should combining your dreams and doing both, become an Acrobat Accountant.
Who better to find loopholes in tax law or to walk that legal tightrope than the Acrobat Accountant?  Audiences will be thrilled to watch you fly through the air on the trapeze while you fill out their tax returns.
This crazy idea is inspired by the Illustration Friday phrase of the week, acrobat.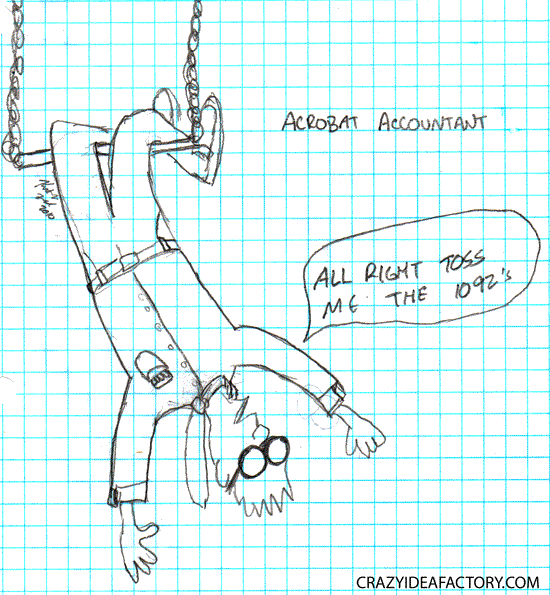 Do you suffer from a case of too much brutal honesty?  Do you have problems keeping your comments to yourself?  Do you always need to get in the last word, even when enough has already been said?
If so you need the Say Stopper!  It is a device you place on your neck, invisible to others it measures and analyzes your biometric inputs to try to determine when you are about to say something you shouldn't.  If the Say Stopper determines you are about to speak when you shouldn't it sends a painless but debilitating ultrasonic pulse into your vocal cords rendering you mute for the moment.   So the next time you are about to say something you shouldn't remember to bmnoiasdhoaniaonfgw89.