Sweaty, yellow, wet armpit stains may have met their match.  The Armpit Pad is a lightweight, comfortable pad that will cling to the armpit of any shirt.  Instead of applying deodorant once a day, the Armpit pad employs a sophisticated time release deodorant system keeping you supplied with deodorant all day long.  The Armpit Pad is also lined with a special moisture absorbing layer to soak up all the sweat that might make it through, working like a diaper for your armpit.
With the Armpit Pad no one will ever say "look at that guy with the yellow, stinky pit stains" again.  But they might say "look at that guy with the diaper things suck in his armpits" and isn't that so much better to hear?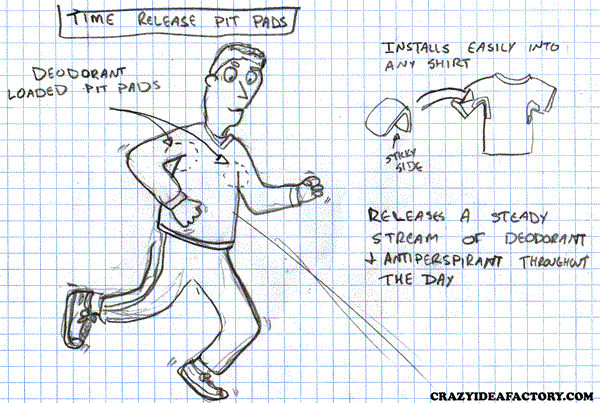 Sometimes your just not sure if your kid's diaper is wet or not and you don't want to walk all the way over and disrupt them  just to check.  That is why you need the "Soaked Siren" diaper alarm.  It sounds out an annoying alarm whenever the baby is wet.
This invention is also great for making sure dad will actually change diapers when he has the kids because listening to the alarm is much worse than changing a diaper.
This crazy idea is inspired by the Illustration Friday word of the week, soaked.
Well this week is "Bike to Work Week" and actually May is "Bike Month".  Biking is great, but unfortunately because of geographic and time issues many of us are unable to bike to work.  For those unable to bike to work this week, I propose adding an "or make your bike work" clause to bike to work week.  With the "or make your bike work" clause workers unable to actually bike to work can use their ingenuity to come up with clever ways to make their bikes work.
I have included two potential ideas to "make your bike work" in today's sketch.  One is to power your computer using a bike generator.  The other idea is tailored toward management, it uses the bike wheel to help managers decide what employee raises should be.  There are millions more ways to make your bike work so I suggest you get out there and find new ways to make your bike work this week.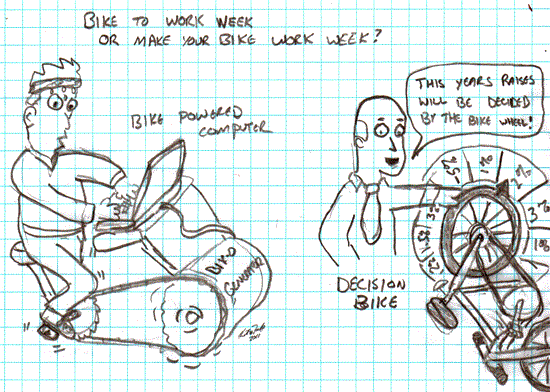 Practicality and fashion are working in tandem with the "Antennae Hat".
Not only is this hat extremely trendy with its cutting edge design, it also has a built in wireless router fed signal by a variety of options.  You wear it on top of your head and it broadcasts signal wherever you walk, allowing you and those around you to have a good quality wi-fi signal at all times.
The "Antennae Hat" get signal, get noticed!!!!!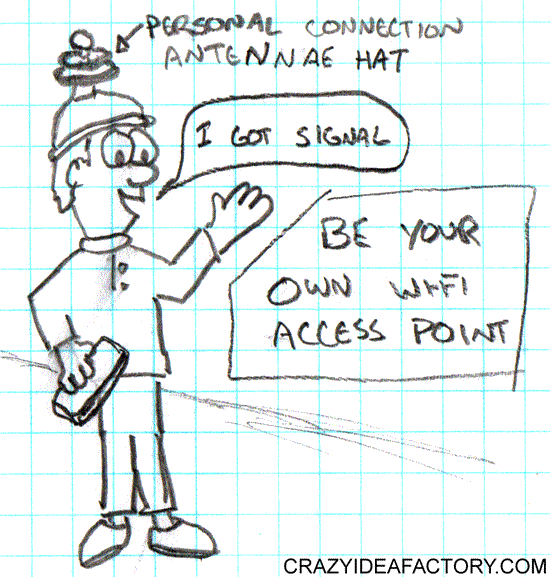 Since apple introduced the iPad the pad/table device market has become extremely popular.  I think these devices are very cool but they are just too big to be toted around with you wherever you may go.  For the next generation of pad/tablet devices they need to roll up, preferably small enough to fit into your back pocket.  Then you can take them with you to use when you need it or just shove away when you don't.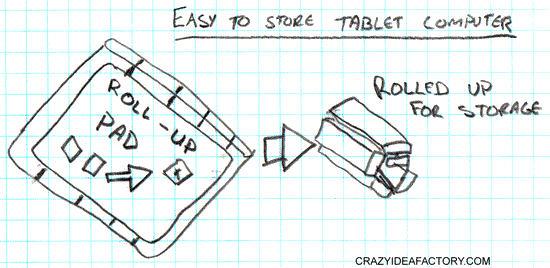 Often times during cold weather you are forced to go back and forth between cold and warm temperatures.  If you stay all bundled up while going from hot to cold you end up sweating in the hot only to have that sweat make you colder when you get back into the cold temperatures.  If you try to go in and out with not enough clothes on you just end up freezing.  Either way you are going to get yourself sick.
The solution is a constant temperature coat.  The coat is lined with a liquid temperature regulation system that will keep your temperature "just right" no matter the surrounding temperature.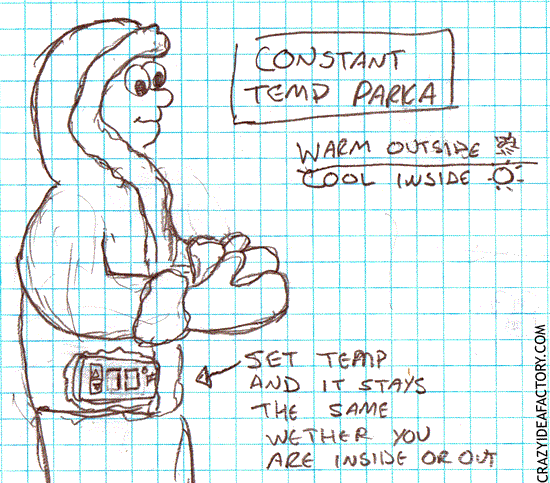 Santa may know if your child has been bad or good, but you might not always know.    The Naughty or Nice Meter will give "Santa like" naughty or nice knowledge to any parent.
With the Naughty or Nice Meter your child gets to wear a really cool temporary tattoo.   The tattoo is actually a sophisticated behavior sensor with a built in RFID transmitter.
As a parent you have a hand held Naughty or Nice Meter that reads the RFID signal from your child's tattoo.  To find out if your child is behaving when out of your sight, you just check your Naughty or Nice meter.  If the level has gone up you will know some suspicious activity has taken place.
Santa may also want to consider one of these.  His system is at least a few hundred years old – it might be time for an upgrade.
The hard part about buying items online is that you cannot see them in three dimensions.   The biggest craze in the television market today is "3D televisions".  The 3D TV concept should be taken one step further to offer online shoppers a more tactile online shopping experience.   Except they have to get rid of the annoying glasses first.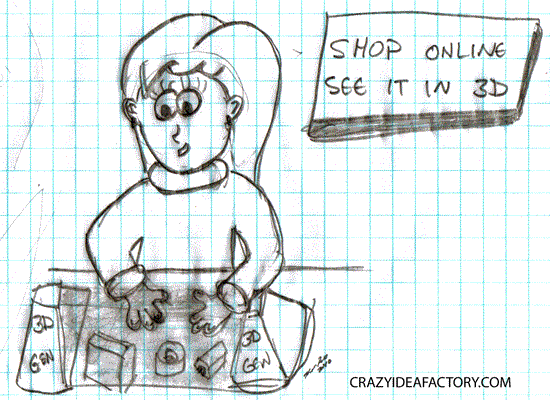 Tired of playing Hearts and Solitaire by yourself on the computer?  Do you want to have a card game with real physical cards, but can't find anyone to play with you?
The Robot Card Partner is what you need.  Sit him down in a chair across from you, plug him into the wall and you have yourself a Pinochle partner.  Order more units and you will have a whole table full of card players.
The robots have card player personalities programed in, so some of them are sore loosers.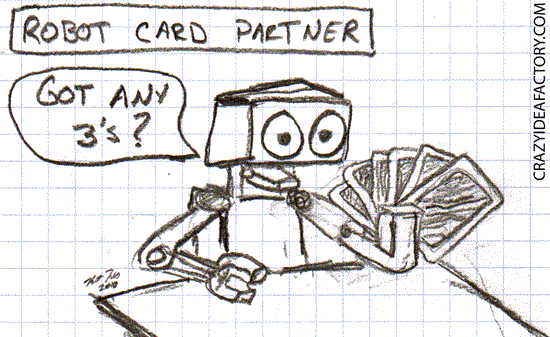 Have you ever changed your own tire when broken down on the side of the road?   Do you even know how to change a tire?
You will never have to worry about changing a tire again if you carry a spare car with you instead of a spare tire.  Imagine  the ability to attach a small car, like a Smart Car to your back bumper and drive about your daily business.  You could also make annoying passengers you don't want to listen to sit back in your spare car while you drive.