I know things are frustrating for you right now, but you don't need to pull your own hair out.  That's what the Pull Your Hair Out Wig is for.  When frustration hits just buckle the wigs chin strap and start pulling hair out till you have sufficiently calmed down.  Wear it while learning computer programs, watching your favorite sports team or any time your children are present.  Your real hair will thank  you!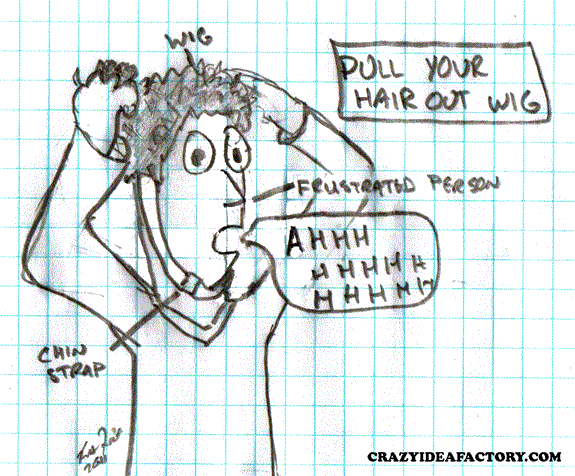 Sweaty, yellow, wet armpit stains may have met their match.  The Armpit Pad is a lightweight, comfortable pad that will cling to the armpit of any shirt.  Instead of applying deodorant once a day, the Armpit pad employs a sophisticated time release deodorant system keeping you supplied with deodorant all day long.  The Armpit Pad is also lined with a special moisture absorbing layer to soak up all the sweat that might make it through, working like a diaper for your armpit.
With the Armpit Pad no one will ever say "look at that guy with the yellow, stinky pit stains" again.  But they might say "look at that guy with the diaper things suck in his armpits" and isn't that so much better to hear?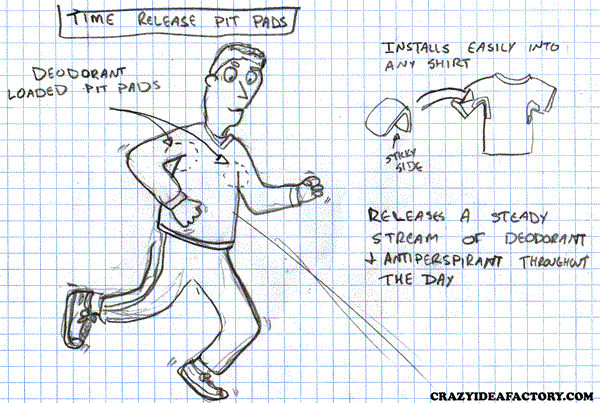 Sometimes your just not sure if your kid's diaper is wet or not and you don't want to walk all the way over and disrupt them  just to check.  That is why you need the "Soaked Siren" diaper alarm.  It sounds out an annoying alarm whenever the baby is wet.
This invention is also great for making sure dad will actually change diapers when he has the kids because listening to the alarm is much worse than changing a diaper.
This crazy idea is inspired by the Illustration Friday word of the week, soaked.
Practicality and fashion are working in tandem with the "Antennae Hat".
Not only is this hat extremely trendy with its cutting edge design, it also has a built in wireless router fed signal by a variety of options.  You wear it on top of your head and it broadcasts signal wherever you walk, allowing you and those around you to have a good quality wi-fi signal at all times.
The "Antennae Hat" get signal, get noticed!!!!!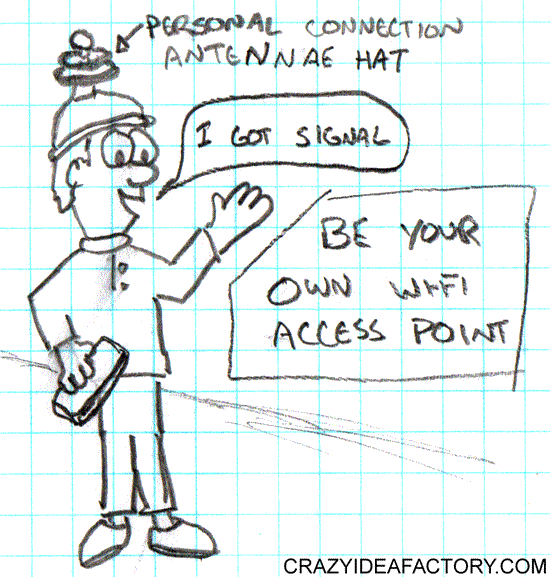 Are you embarrassed that whenever you need to do a complicated math problem?  Do you end up needing to remove your shoes so you can count on your toes when adding and subtracting large numbers?
With the "Shoes You Can Count On" you will never have to display those disgusting toes of yours in public ever again.  Instead of exposing everyone around you to that dangerous foot odor of yours you just slide the beads built into the toes of the shoes. You shoes will work like a good old fashioned abacus.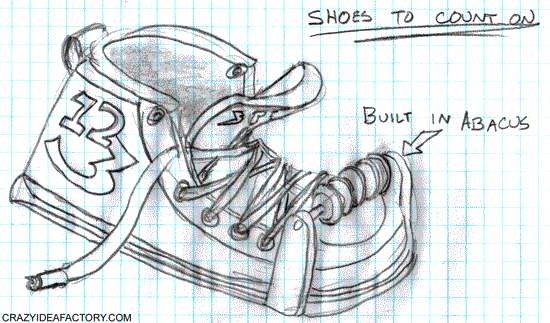 Often times during cold weather you are forced to go back and forth between cold and warm temperatures.  If you stay all bundled up while going from hot to cold you end up sweating in the hot only to have that sweat make you colder when you get back into the cold temperatures.  If you try to go in and out with not enough clothes on you just end up freezing.  Either way you are going to get yourself sick.
The solution is a constant temperature coat.  The coat is lined with a liquid temperature regulation system that will keep your temperature "just right" no matter the surrounding temperature.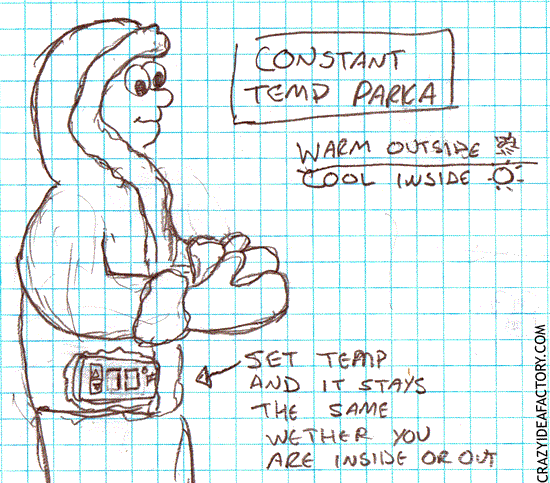 Are you looking for a spooky and terrifying costume idea?  Have you thought of dressing up as the Facebook Monster?
The Facebook Monster is the spookiest and scariest monster of them all!  He knows everything about you, you even think he is your "friend", but all along he creeps along unnoticed by you while he tells the world your secrets.  He will show your potential employer embarrassing pictures of you, your new boyfriend/girlfriend all about what happened during your last relationship and worst of all he knows what you really did last summer.
This crazy idea is inspired by the Illustration Friday word of the week, spooky.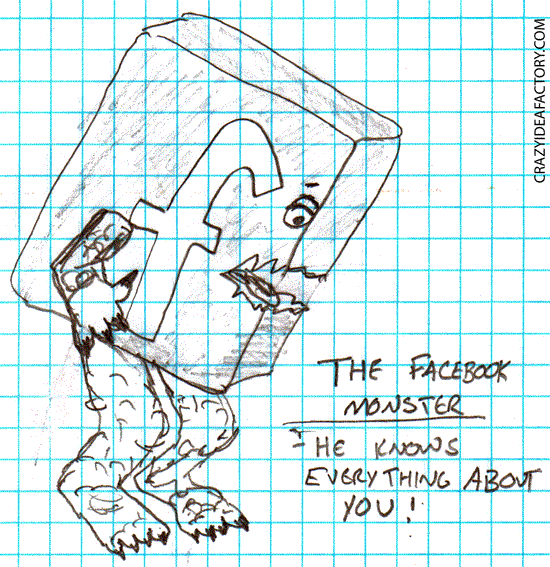 There is a crime wave going unreported.  A crime wave of socks – mostly left socks – being stolen from dryers everywhere.  The culprits are getting away and the police are too busy to track them down.  But you can protect your left socks with the "Dryer Defender".
The "Dryer Defender"  bounces around with your laundry, protecting your socks from would-be thieves while at the same time providing fabric softening and just a hint of a spring breeze scent.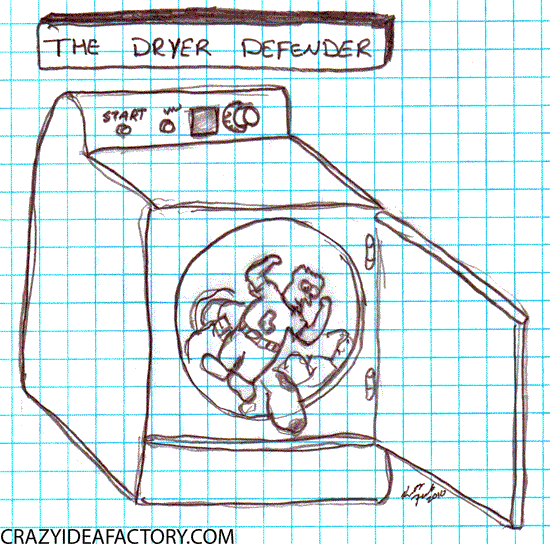 I hate wearing neckties.  I always feel as though they are trying to strangle me.  The tie just doesn't seem to have a practical reason for being in my wardrobe.
To motivate people like myself to wear ties they should have tools built in.  Like a Swiss Army Knife and necktie combination. The Tie Multi-Tool would be large enough it could include large tools a standard pocket knife would not have room for, such as a hand saw and a large crescent wrench.
I can see the Tie Multi-Tool coming in real handy the next time I get invited to a cocktail party and I need to cut a couple of boards (I wonder why people don't invite me to parties?).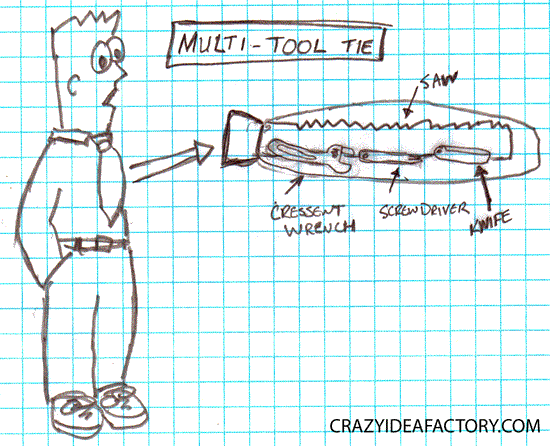 Ever go for a jog and not have any pockets to store your money or keys?
Shoes should have a storage compartment in the bottom that is easily accessible but free from sweat and foot odor.  The compartment would need only be large enough to slide in a credit card, some cash or a couple of keys.