Well this week is "Bike to Work Week" and actually May is "Bike Month".  Biking is great, but unfortunately because of geographic and time issues many of us are unable to bike to work.  For those unable to bike to work this week, I propose adding an "or make your bike work" clause to bike to work week.  With the "or make your bike work" clause workers unable to actually bike to work can use their ingenuity to come up with clever ways to make their bikes work.
I have included two potential ideas to "make your bike work" in today's sketch.  One is to power your computer using a bike generator.  The other idea is tailored toward management, it uses the bike wheel to help managers decide what employee raises should be.  There are millions more ways to make your bike work so I suggest you get out there and find new ways to make your bike work this week.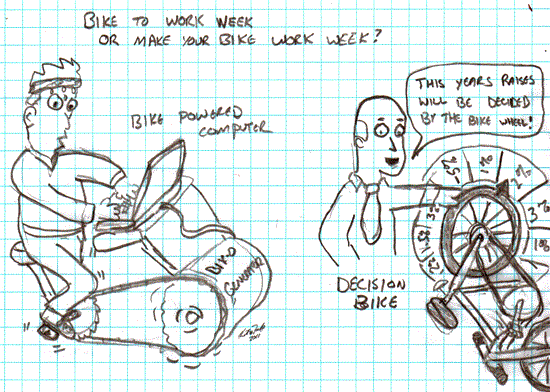 To celebrate the new book I am going to give away some free copies of the book.   Here are the three ways you can get a free copy of the book, hurry and sign up I will be giving away these books on Monday, April 18 so you have to sign up before then.
Leave an interesting comment at the bottom of this post.  I will pick my favorite comment and send a book out to the lucky commenter.
Follow crzyideafactory on Twitter. I will give out one copy of my book to one of my twitter followers at random.
Like Crazy Idea Factory on Facebook.  I will give out one book to one of our Facebook followers at random.
Good Luck!!!!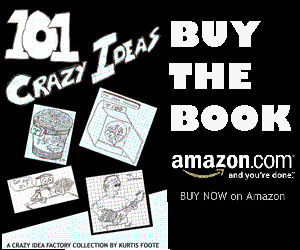 I am excited to announce the release of our new Crazy Idea Factory book, 101 Crazy Ideas.  The book contains much of the same content you have grown to love on the Crazy Idea Factory Website except it is printed on paper with a lovely cover!  Get yours today!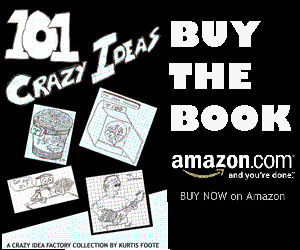 I have been working on a game for a community Halloween party next weekend.  It is a Simon Says style game using some light-up arcade buttons and an Arduino to provide the brains.  The code I used for the Arduino sketch can be found here on the Arduino forums at this link.  I will post updates when I complete the game.
Youtube video of the Arduino Says game!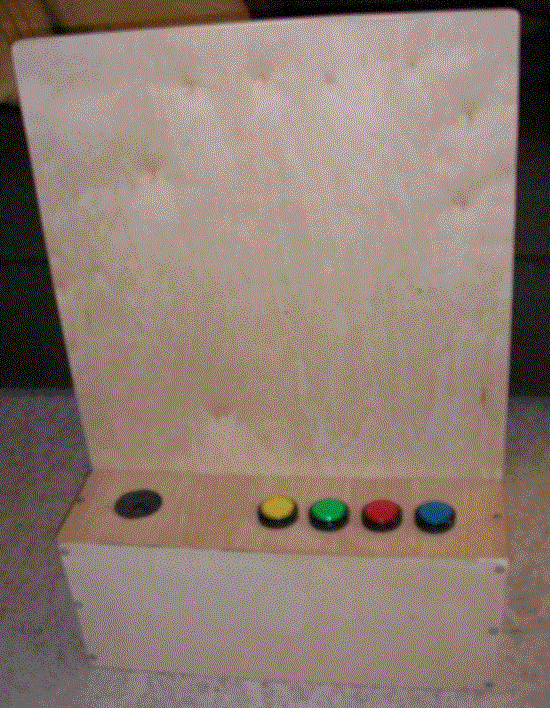 The contest is over, I am sending the book out to the winner.  Thank you to everyone that entered, we will be having more giveaways so please check back.
Hello all!!
I have been doing a little clean up around the house and I found a few books I thought might be of interest to the readers and fans of Crazy Idea Factory.  One of these books is Gadget Nation by Steve Greenberg.  I read it and found it interesting, there a allot of interesting stories about gadget inventors.
Now, I am going to give my copy away to one lucky commenter to this post.  Place your comment before 3 pm Central Time Sunday, October 10, 2010.  I will notify the winner later that night via email and ship the book out later in the week (don't worry, I will pay the shipping).  Good luck!
This is another cool weekend link I thought I would share with our readers.  Super Awesome Sylvia builds two different super simple Arduino Projects (Arduino is a very cool open source mini electronic controller). The website for Super Awesome Sylvia and her dad is http://tn42.com/
I think they did great work on this video and commend them on making a crazy idea really happen in a super awesome crazy way.
http://www.youtube.com/watch?v=3xCY2K9kQz4

It's the weekend, no new cartoon ideas but I thought you might be interested in the power laces Blake Bevin is developing and trying to fund at kickstarter.com.  These shoes are straight out of Back to the Future part 2 and judging by the youtube video embedded below they are something I would love to have.
These shoes would be great not only for the nostalgic Back to the Future tie in but for people with back problems that are not comfortable with bending over to tie their shoes.
Check them out at this link for the kickstarter project  http://kck.st/a1LMBW.
I did it, I submitted a sketch to the Dueling Banjo Pigs website.  I love the site, it is a crazy idea all by itself with lots of great Banjo Pig cartoons from some really great illustrators and artists.
My favorite Banjo pig of all is not a cartoon Banjo Pig it is an Automaton Banjo Pig made by Guy Francis (one of the Dueling Banjo Pig founders).
The Youtube video of the automaton is below and for more info on the project visit Guy's site http://kactiguy.blogspot.com/2010/08/banjo-pig-automaton.html

This is the This Week in Engineering from engineering.com.  I found it funny and thought some of our readers may also find it humorous.
Another round of video pics I posted to Youtube.
http://www.youtube.com/watch?v=53_ZKJ-ZOcg