Tired of playing Hearts and Solitaire by yourself on the computer?  Do you want to have a card game with real physical cards, but can't find anyone to play with you?
The Robot Card Partner is what you need.  Sit him down in a chair across from you, plug him into the wall and you have yourself a Pinochle partner.  Order more units and you will have a whole table full of card players.
The robots have card player personalities programed in, so some of them are sore loosers.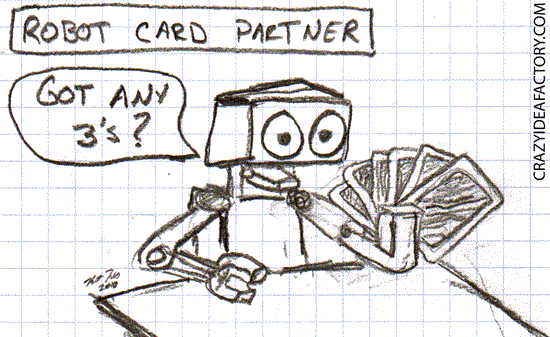 Have  you ever chosen the squeaky wheel, the one that won't turn,or one that won't drive straight?  Are you just tired of pushing the heavy thing?  Are you like me and can't find anything in giant superstores?
Well, your shopping cart problems are over with the introduction of the automatically guided shopping cart.  Just tell the cart what you would like to shop for and it will take you there.  For example you could say "I would like to buy some AA batteries" and your cart would lead you directly to the battery aisle.
If your a store owner worried about cost, don't worry you can add up-sell capabilities to the cart.  If a customer adds tortilla chips to the cart the cart would mention how well salsa goes with tortilla chips.
Next evolution, I feed the cart my list and it goes around and gets everything for me while I go out to eat.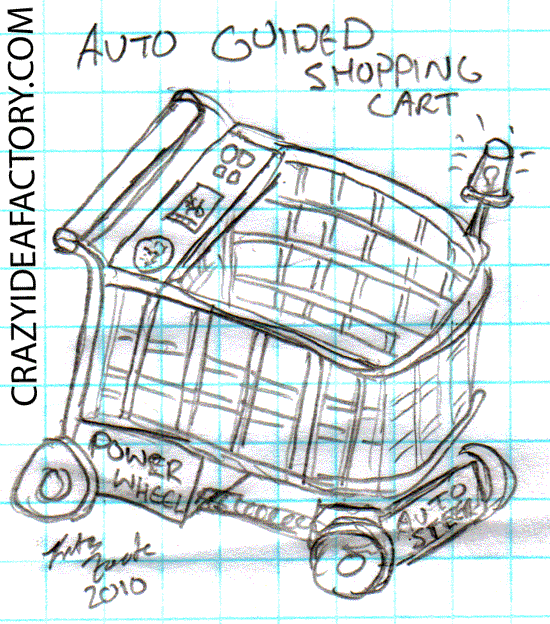 For me the hardest part of gardening is pulling the weeds and remembering to water.  The idea to solve this problem is The Garden Bot.   The Garden Bot digs those pesky weeds out of the ground, waters plants as necessary and runs on solar power.  Now I just need to find a way to make onions taste better!
This crazy idea is inspired by the Illustration Friday word of the week, artificial.
As the age of real I, Robot draws ever closer I think about the places where I would like to have a robot to help me out in life.  That place is of course my pillow.  I need a pillow smart enough to understand how I sleep.  I shouldn't have to punch and ball up my pillow to find the exact thickness and softness factors I need to sleep well at night.  My pillow should know based upon my mood and level of tension what form it should take while I sleep.
If I am having trouble sleeping the pillow should know when to shut the TV off, add some white noise or play some soothing music.
In the mornings if my stinky alarm clock doesn't wake me up, my pillow should nudge me or push me out of bed.
And if needed the artificial intelligent pillow should be able to talk  to me at night and offer psychiatric advice.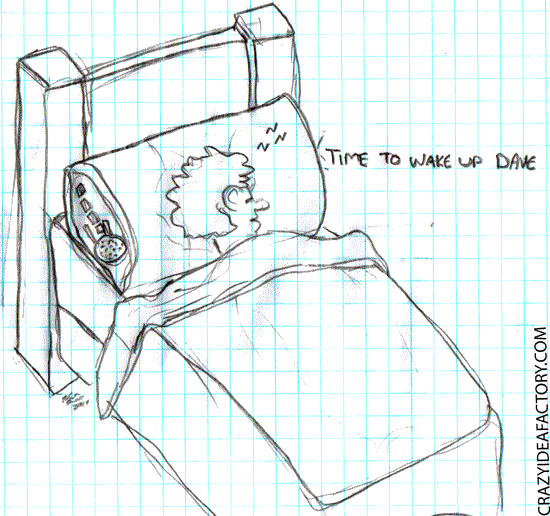 I am sure there is a medical study somewhere keeping track of the amount of injuries incurred by people waking up in the middle of the night and stumbling or walking into something on their way to the bathroom.  Imagine if you could wake up in the middle of night, mumble the word "bathroom" or "kitchen" and that word would activate a robot.  The robot would light up and guide you to your destination and guide you safely back to bed.
Better yet the robot could also have a "go get me" mode.  You could mumble "go get me a glass of water" and the robot would go out to the kitchen, find a glass of water and bring it back to you.
Next development, a diaper changing robot for parents with babies.