A ring that is also a fork.  It's practical, it's fashionable and I can't imagine who wouldn't want one.
I know I do not like my coffee quite as hot as it is when it comes out of the coffee maker, but I don't know what temperature that is.  I like my coffee black with a PH of 6, but I usually don't know what the actual PH level is.  I try not to drink more than 16 ounces of coffee a day, but I am not sure if I drink more sometimes.
I need a smarter coffee mug.  The Info-Mug, it tells me the temperature of my coffee so I know when it's ready to drink.  It tells me the PH of my coffee so I will know if anyone has added anything funny to my coffee and it tells me how much coffee is in my mug so I know how much coffee I am drinking.  The Info-Mug has the answer to all of my coffee cup questions.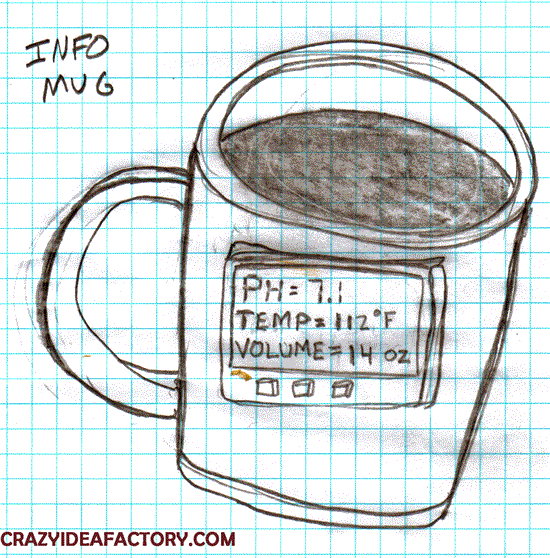 Are you a habitual pen chewer?  Do you hate the taste of plastic while chewing your pen?  Are you tired of all the bite marks on your pen?
Then you need a "Pen Made For Chewing"  this pen works just like any other pen except it has a hole in the top for dropping  a sucker into.  Buy a bag of suckers slide one into the end of the pen and you are on your way to a much more enjoyable pen chewing experience.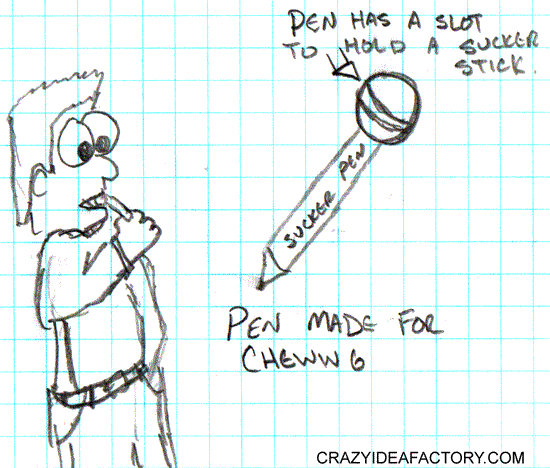 Now that the holiday season is in full swing many refrigerators are beginning to overflow with too many leftovers.  Most of those leftovers will go uneaten unless you have a Leftoverinator.
Ham, turkey, tofurkey, yams, spinach, potatoes, whatever your leftover may be dump it into the Leftoverinator.  The Leftoverinator uses a patented process to dehydrate, reformulate and preserve your leftovers as tasty leftover patties.  Don't worry about the flavor.  No matter what you dump into the Leftoverinator it will come out as patty that tastes just like chicken.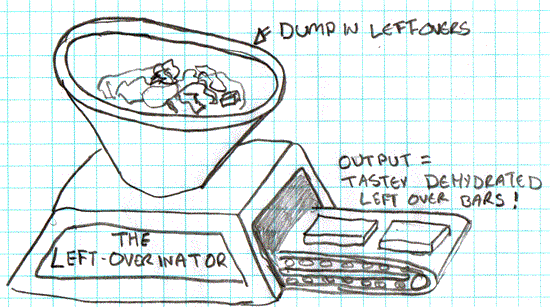 Santa has a lot to do on Christmas Eve, so he needs his milk and cookies laid out efficiently for him.  What could be more efficient than cookies and milk already mixed up and put into a soda can?  Santa can even bring the can with him and drink it on the sleigh ride to the next house.
It sounds like a tasty idea to me – I might take a few cans myself.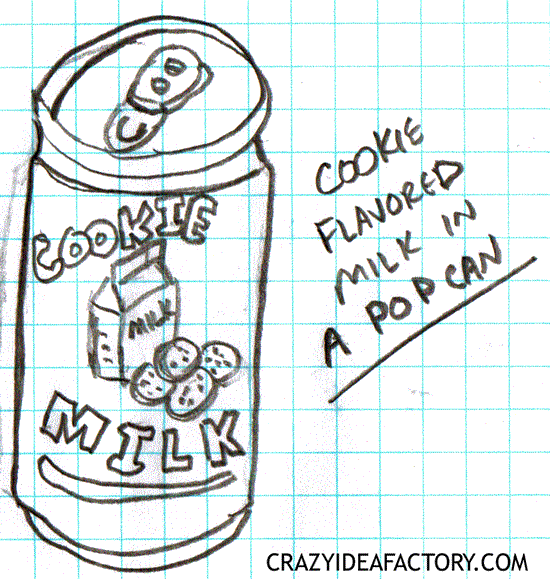 Do you love to chew your fingernails, but the bad flavor turns you off?  Solve that problem with flavored fingernail candy.
Stick one of these candy-fingernails to your fingernail and you can chew all day and not have to worry about how bad your nails taste.  They also add a little extra nail for you to chew if you have already chewed your nails down all of the way.
Crackers exist, peanut butter exists, cheese in a can exists; why doesn't peanut butter in a can exist?  This is the question troubling my dear friend Sandy.
There are crackers of all shapes, sizes and flavors, but the are all missing one critical thing; peanut butter in a can.  Write to your local peanut butter representatives and let them know you want to solve this problem plaguing our nations crackers.  Let them know you want to see peanut butter in a can on a store shelf near you!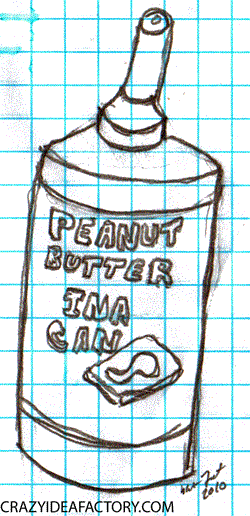 I love eating popcorn, but every time I eat popcorn I end up with more popcorn stuck between my teeth than I have in my stomach.  A roll of dental floss attached to the side of the popcorn tub would be helpful addition.  After eating the popcorn I could floss my teeth without having to leave the couch during the best part of the movie.  It could also be a good promotional tool for dentists.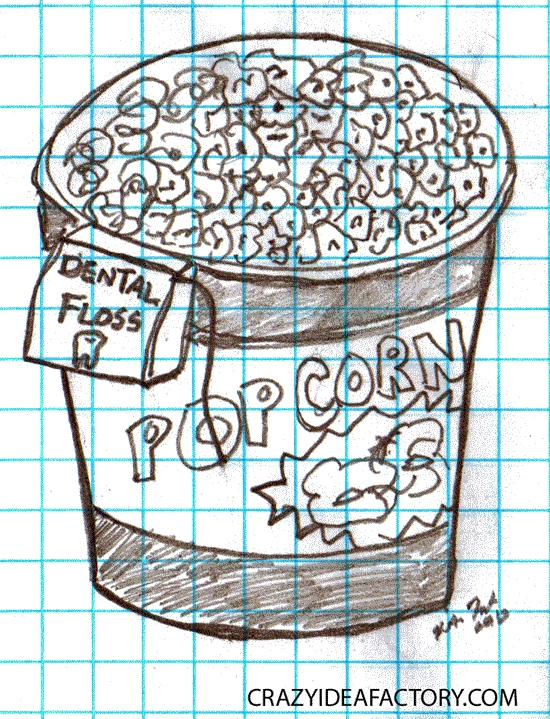 There is not enough singing during grilling and that is why you need the Spatula-La.  The Spatula-La is the singing spatula.  It sings as it flips burgers, it sings as it flips potatoes, it even sings as it flips chicken. The only time it doesn't sing is when it flips onions, it gets just a little too teary eyed to sing.
A "steak holder" is someone who has a direct interest in a portion of a business…. What???
No, it's not!  A Steak Holder is something that holds steak.  It keeps the steak at the correct temperature and enhances the steak eating experience!