I know things are frustrating for you right now, but you don't need to pull your own hair out.  That's what the Pull Your Hair Out Wig is for.  When frustration hits just buckle the wigs chin strap and start pulling hair out till you have sufficiently calmed down.  Wear it while learning computer programs, watching your favorite sports team or any time your children are present.  Your real hair will thank  you!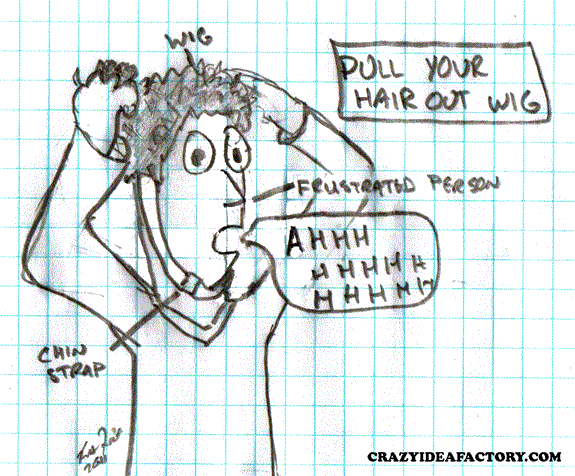 Sweaty, yellow, wet armpit stains may have met their match.  The Armpit Pad is a lightweight, comfortable pad that will cling to the armpit of any shirt.  Instead of applying deodorant once a day, the Armpit pad employs a sophisticated time release deodorant system keeping you supplied with deodorant all day long.  The Armpit Pad is also lined with a special moisture absorbing layer to soak up all the sweat that might make it through, working like a diaper for your armpit.
With the Armpit Pad no one will ever say "look at that guy with the yellow, stinky pit stains" again.  But they might say "look at that guy with the diaper things suck in his armpits" and isn't that so much better to hear?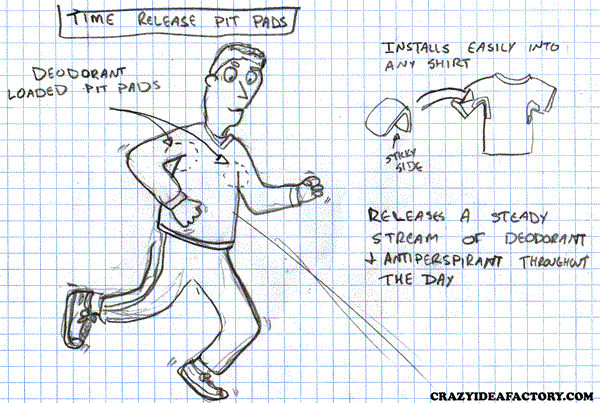 Are you still brushing with an old fashioned tooth brush?  Well, the time to upgrade is now.  You don't have just one tooth, you have teeth!  You need a Teethbrush, it brushes all the teeth in your mouth at once.  It is simple to use, just load it with the special tooth cleaning serum (toothpaste), place it in your mouth and turn it on.  Special vibratory bristle action cleans all of your teeth at once while your hands are free to accomplish other tasks.  Just a cautionary note though, it does cause excessive drooling so you may want to keep a towel handy.
Sometimes your just not sure if your kid's diaper is wet or not and you don't want to walk all the way over and disrupt them  just to check.  That is why you need the "Soaked Siren" diaper alarm.  It sounds out an annoying alarm whenever the baby is wet.
This invention is also great for making sure dad will actually change diapers when he has the kids because listening to the alarm is much worse than changing a diaper.
This crazy idea is inspired by the Illustration Friday word of the week, soaked.
A ring that is also a fork.  It's practical, it's fashionable and I can't imagine who wouldn't want one.
If you have ever wanted to change the looks of your house without actually changing any part of your house you may be interested in the House Billboard.  Just page through the 500 page catalog pick out the House Billboard you want and it is shipped directly to your door.
The house billboard is also great for covering up all of those foreclosed properties in the neighborhood.  Drivers by won't even notice the lawn hasn't been mowed or that all of the widows have been broken.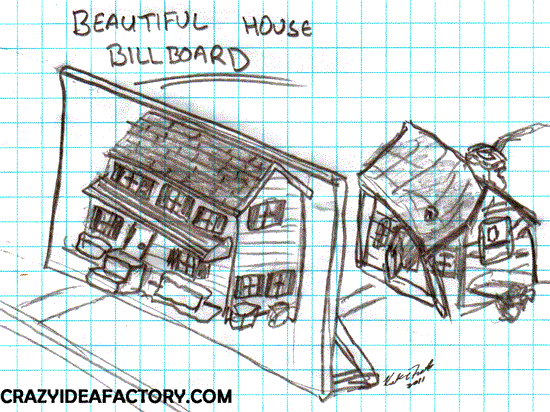 I know I do not like my coffee quite as hot as it is when it comes out of the coffee maker, but I don't know what temperature that is.  I like my coffee black with a PH of 6, but I usually don't know what the actual PH level is.  I try not to drink more than 16 ounces of coffee a day, but I am not sure if I drink more sometimes.
I need a smarter coffee mug.  The Info-Mug, it tells me the temperature of my coffee so I know when it's ready to drink.  It tells me the PH of my coffee so I will know if anyone has added anything funny to my coffee and it tells me how much coffee is in my mug so I know how much coffee I am drinking.  The Info-Mug has the answer to all of my coffee cup questions.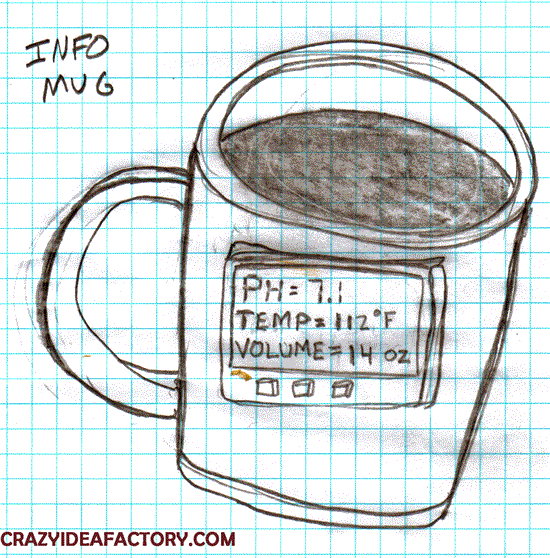 No need to travel to the far reaches of Africa for a safari, the office cubicle is just as interesting and dangerous.  See engineers, accountants, analysts and interns all in their natural habitat.  Wander down to the coffee machine to observe communication and socialization.  Just be careful to avoid the red-faced manager, that species can get mighty cranky.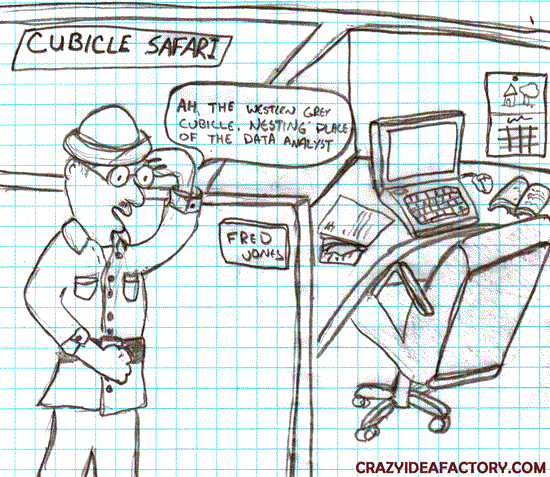 This crazy idea is inspired by the Illustration Friday word of the week, safari.
Well this week is "Bike to Work Week" and actually May is "Bike Month".  Biking is great, but unfortunately because of geographic and time issues many of us are unable to bike to work.  For those unable to bike to work this week, I propose adding an "or make your bike work" clause to bike to work week.  With the "or make your bike work" clause workers unable to actually bike to work can use their ingenuity to come up with clever ways to make their bikes work.
I have included two potential ideas to "make your bike work" in today's sketch.  One is to power your computer using a bike generator.  The other idea is tailored toward management, it uses the bike wheel to help managers decide what employee raises should be.  There are millions more ways to make your bike work so I suggest you get out there and find new ways to make your bike work this week.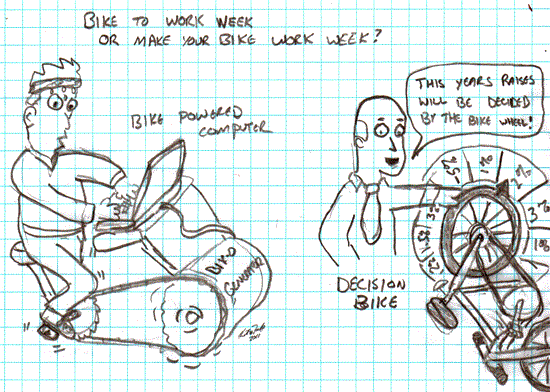 The contest is over, and the winners are…..  Congratulations to the winners and thanks to everybody else for being a fan of Crazy Idea Factory.
Leave an interesting comment at the bottom of this post. I will pick my favorite comment and send a book out to the lucky commenter.  Winner is Erin

Follow crzyideafactory on Twitter. I will give out one copy of my book to one of my twitter followers at random. 

Winner is Bearman Cartoons



Like Crazy Idea Factory on Facebook. I will give out one book to one of our Facebook followers at random.

Winner is Vicki



Congratulations to the winners and thanks to everybody else for being a fan of Crazy Idea Factory.