I know things are frustrating for you right now, but you don't need to pull your own hair out.  That's what the Pull Your Hair Out Wig is for.  When frustration hits just buckle the wigs chin strap and start pulling hair out till you have sufficiently calmed down.  Wear it while learning computer programs, watching your favorite sports team or any time your children are present.  Your real hair will thank  you!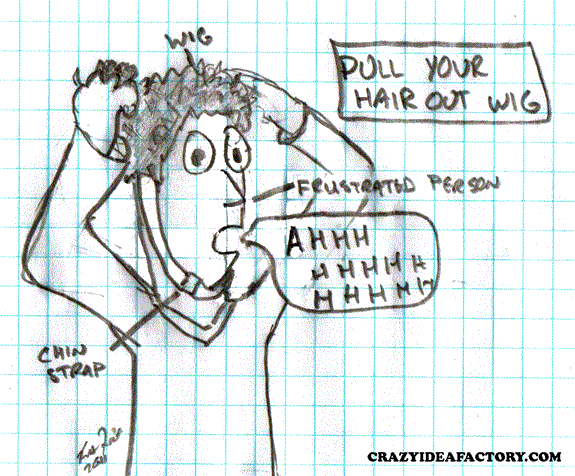 Sweaty, yellow, wet armpit stains may have met their match.  The Armpit Pad is a lightweight, comfortable pad that will cling to the armpit of any shirt.  Instead of applying deodorant once a day, the Armpit pad employs a sophisticated time release deodorant system keeping you supplied with deodorant all day long.  The Armpit Pad is also lined with a special moisture absorbing layer to soak up all the sweat that might make it through, working like a diaper for your armpit.
With the Armpit Pad no one will ever say "look at that guy with the yellow, stinky pit stains" again.  But they might say "look at that guy with the diaper things suck in his armpits" and isn't that so much better to hear?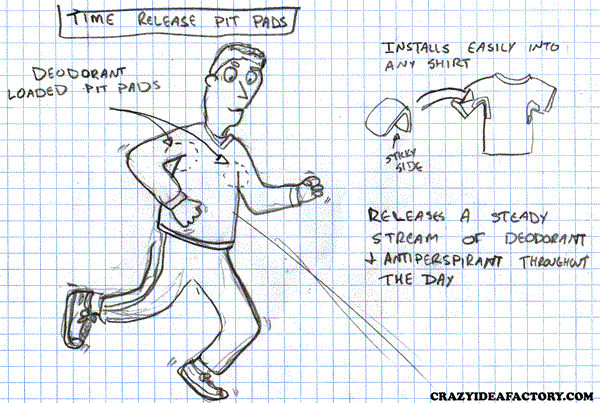 Are you still brushing with an old fashioned tooth brush?  Well, the time to upgrade is now.  You don't have just one tooth, you have teeth!  You need a Teethbrush, it brushes all the teeth in your mouth at once.  It is simple to use, just load it with the special tooth cleaning serum (toothpaste), place it in your mouth and turn it on.  Special vibratory bristle action cleans all of your teeth at once while your hands are free to accomplish other tasks.  Just a cautionary note though, it does cause excessive drooling so you may want to keep a towel handy.
Sometimes your just not sure if your kid's diaper is wet or not and you don't want to walk all the way over and disrupt them  just to check.  That is why you need the "Soaked Siren" diaper alarm.  It sounds out an annoying alarm whenever the baby is wet.
This invention is also great for making sure dad will actually change diapers when he has the kids because listening to the alarm is much worse than changing a diaper.
This crazy idea is inspired by the Illustration Friday word of the week, soaked.
A ring that is also a fork.  It's practical, it's fashionable and I can't imagine who wouldn't want one.
If you have ever wanted to change the looks of your house without actually changing any part of your house you may be interested in the House Billboard.  Just page through the 500 page catalog pick out the House Billboard you want and it is shipped directly to your door.
The house billboard is also great for covering up all of those foreclosed properties in the neighborhood.  Drivers by won't even notice the lawn hasn't been mowed or that all of the widows have been broken.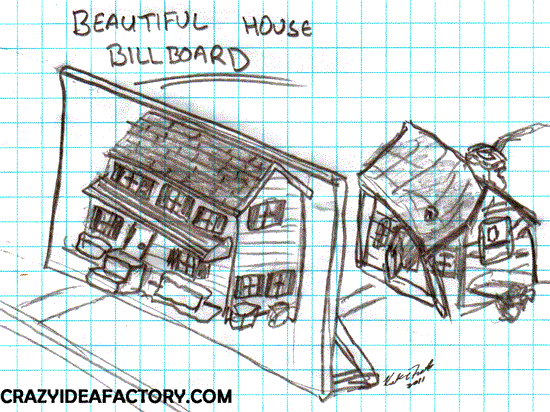 I know I do not like my coffee quite as hot as it is when it comes out of the coffee maker, but I don't know what temperature that is.  I like my coffee black with a PH of 6, but I usually don't know what the actual PH level is.  I try not to drink more than 16 ounces of coffee a day, but I am not sure if I drink more sometimes.
I need a smarter coffee mug.  The Info-Mug, it tells me the temperature of my coffee so I know when it's ready to drink.  It tells me the PH of my coffee so I will know if anyone has added anything funny to my coffee and it tells me how much coffee is in my mug so I know how much coffee I am drinking.  The Info-Mug has the answer to all of my coffee cup questions.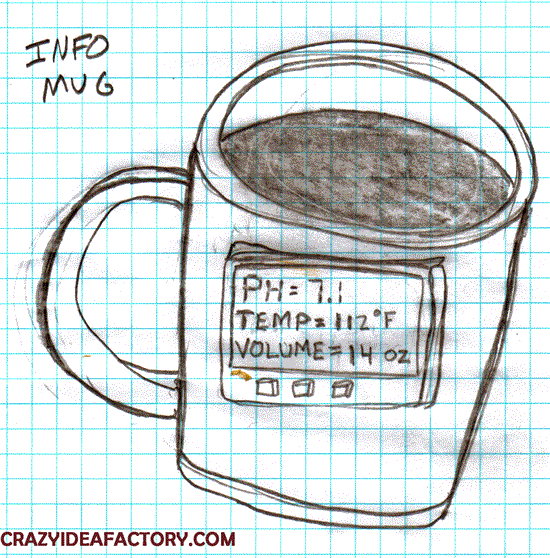 It has long been considered bad form to wipe your nose on your sleeve, but that conflicts with the natural instinct to use the forearm to wipe your nose.
Why fight the urge?  Get yourself the "Sleeve Wiper". The "Sleeve Wiper" is a stack of tissues attached to your forearm.  Wipe away the snot, peel off the soiled tissue layer and you are ready for the next runny nose situation.  Great if you have a cold, kids or just enjoy more stuff strapped to your arm.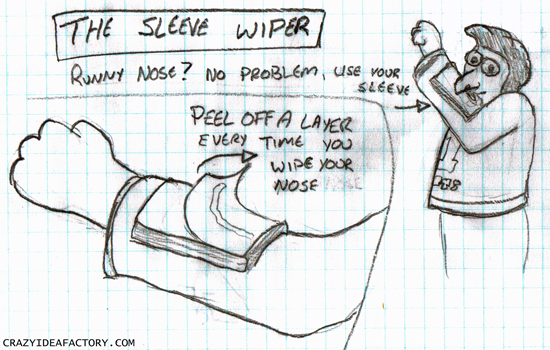 Are you a habitual pen chewer?  Do you hate the taste of plastic while chewing your pen?  Are you tired of all the bite marks on your pen?
Then you need a "Pen Made For Chewing"  this pen works just like any other pen except it has a hole in the top for dropping  a sucker into.  Buy a bag of suckers slide one into the end of the pen and you are on your way to a much more enjoyable pen chewing experience.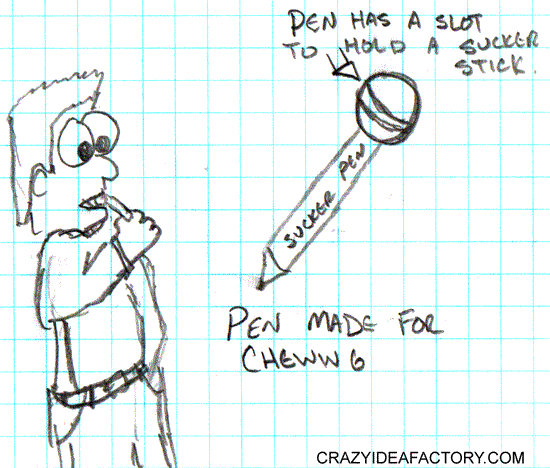 Practicality and fashion are working in tandem with the "Antennae Hat".
Not only is this hat extremely trendy with its cutting edge design, it also has a built in wireless router fed signal by a variety of options.  You wear it on top of your head and it broadcasts signal wherever you walk, allowing you and those around you to have a good quality wi-fi signal at all times.
The "Antennae Hat" get signal, get noticed!!!!!