I know things are frustrating for you right now, but you don't need to pull your own hair out.  That's what the Pull Your Hair Out Wig is for.  When frustration hits just buckle the wigs chin strap and start pulling hair out till you have sufficiently calmed down.  Wear it while learning computer programs, watching your favorite sports team or any time your children are present.  Your real hair will thank  you!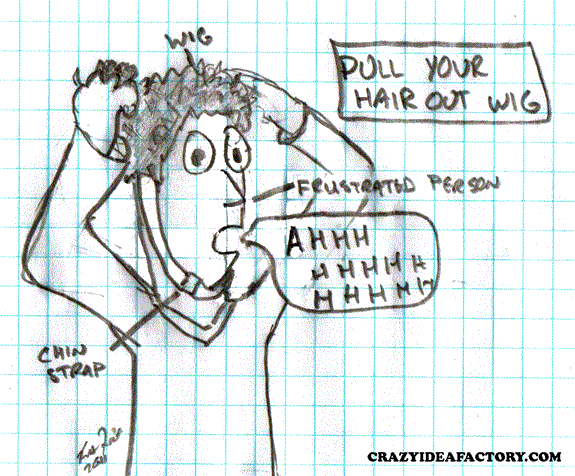 Sweaty, yellow, wet armpit stains may have met their match.  The Armpit Pad is a lightweight, comfortable pad that will cling to the armpit of any shirt.  Instead of applying deodorant once a day, the Armpit pad employs a sophisticated time release deodorant system keeping you supplied with deodorant all day long.  The Armpit Pad is also lined with a special moisture absorbing layer to soak up all the sweat that might make it through, working like a diaper for your armpit.
With the Armpit Pad no one will ever say "look at that guy with the yellow, stinky pit stains" again.  But they might say "look at that guy with the diaper things suck in his armpits" and isn't that so much better to hear?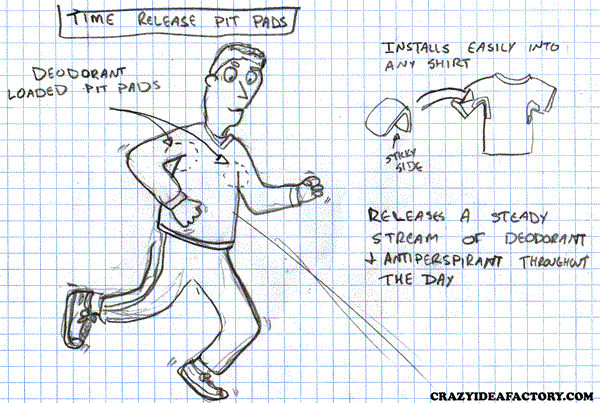 Are you still brushing with an old fashioned tooth brush?  Well, the time to upgrade is now.  You don't have just one tooth, you have teeth!  You need a Teethbrush, it brushes all the teeth in your mouth at once.  It is simple to use, just load it with the special tooth cleaning serum (toothpaste), place it in your mouth and turn it on.  Special vibratory bristle action cleans all of your teeth at once while your hands are free to accomplish other tasks.  Just a cautionary note though, it does cause excessive drooling so you may want to keep a towel handy.
Well this week is "Bike to Work Week" and actually May is "Bike Month".  Biking is great, but unfortunately because of geographic and time issues many of us are unable to bike to work.  For those unable to bike to work this week, I propose adding an "or make your bike work" clause to bike to work week.  With the "or make your bike work" clause workers unable to actually bike to work can use their ingenuity to come up with clever ways to make their bikes work.
I have included two potential ideas to "make your bike work" in today's sketch.  One is to power your computer using a bike generator.  The other idea is tailored toward management, it uses the bike wheel to help managers decide what employee raises should be.  There are millions more ways to make your bike work so I suggest you get out there and find new ways to make your bike work this week.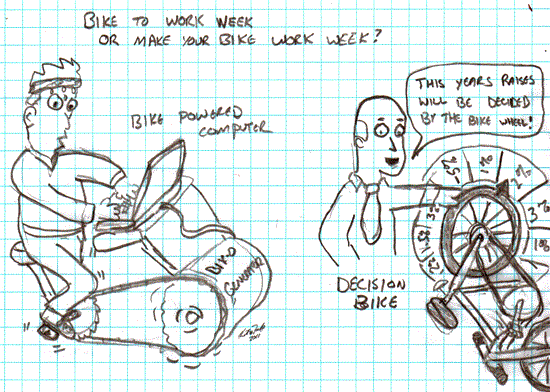 I love eating popcorn, but every time I eat popcorn I end up with more popcorn stuck between my teeth than I have in my stomach.  A roll of dental floss attached to the side of the popcorn tub would be helpful addition.  After eating the popcorn I could floss my teeth without having to leave the couch during the best part of the movie.  It could also be a good promotional tool for dentists.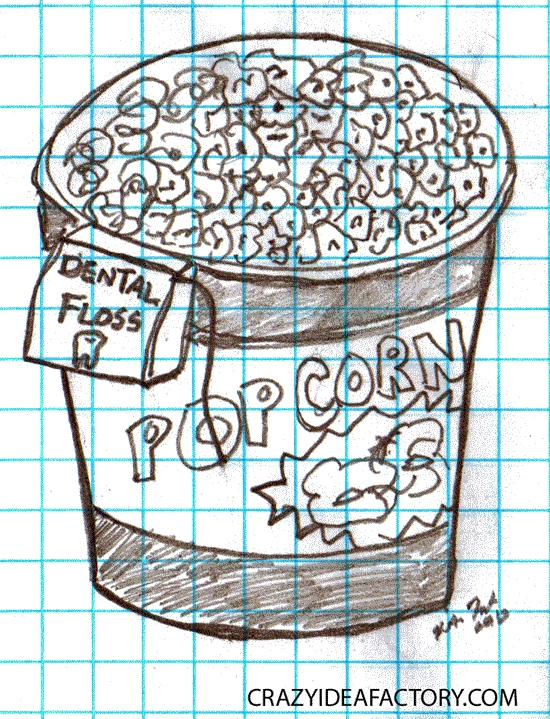 I get tired of taking all the extra time to find my toothbrush and tube of toothpaste, and then after I find them going through all the hassle to squirt the toothpaste onto the toothbrush in a perfect toothpaste shape onto the toothbrush.  The toothbrush and toothpaste combo builds a tube of toothpaste into the handle of a toothbrush.  With the toothbrush and toothpaste combo you can give a little extra squeeze if you need a little extra toothpaste in tomorrow mornings brushing.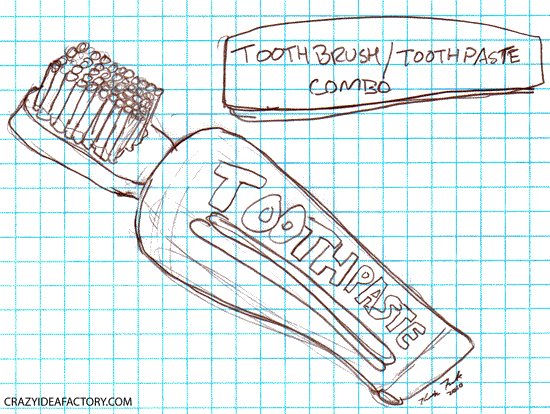 Are you tired of wondering what to eat?  Do you stare into your refrigerator wondering what to eat tonight?  Do menus appear in  your nightmares because you dread decisions about what you should eat?
Get rid of those choices by choosing to eat only "Square Meals".  "Square Meals" are nutritionally perfect meal squares.  They provide all of the nutrition you need with none of the worry about having to choose what to eat.  If you are concerned about the flavor you can stop worrying, because "Square Meals" have none.
Many people who run on treadmills like to do so while watching television.   Treadmills with built in televisions are already on the market, but they still run on electricity from the grid.  If you want to really have motivation to get some exercise and to help the environment you should power your television with the energy you are creating by running on your treadmill.
If you were missing the drive to push yourself to run a little longer imagine how much more you can run if you need to keep running to see the exciting end of the game or the suspenseful climax of your favorite thriller.
Ever go for a jog and not have any pockets to store your money or keys?
Shoes should have a storage compartment in the bottom that is easily accessible but free from sweat and foot odor.  The compartment would need only be large enough to slide in a credit card, some cash or a couple of keys.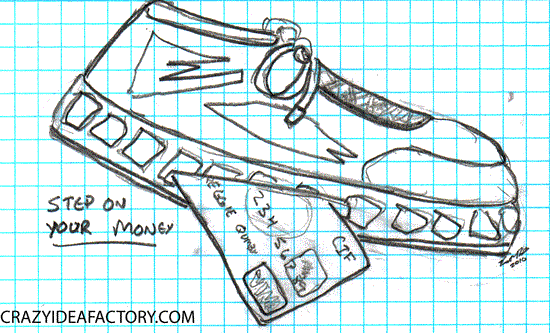 Do you dream of performing death defying stunts in midair?  Are you an accountant or are you thinking of becoming an accountant, but you want to add a little more flare to set yourself apart from other accountants?   You should combining your dreams and doing both, become an Acrobat Accountant.
Who better to find loopholes in tax law or to walk that legal tightrope than the Acrobat Accountant?  Audiences will be thrilled to watch you fly through the air on the trapeze while you fill out their tax returns.
This crazy idea is inspired by the Illustration Friday phrase of the week, acrobat.