No need to travel to the far reaches of Africa for a safari, the office cubicle is just as interesting and dangerous.  See engineers, accountants, analysts and interns all in their natural habitat.  Wander down to the coffee machine to observe communication and socialization.  Just be careful to avoid the red-faced manager, that species can get mighty cranky.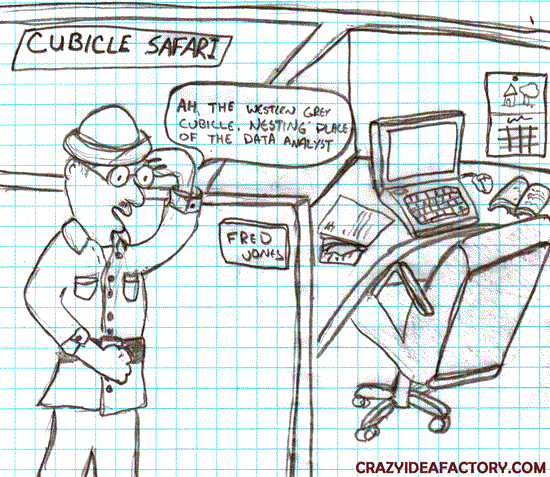 This crazy idea is inspired by the Illustration Friday word of the week, safari.
This crazy idea is inspired by the Illustration Friday word of the week, warning.
In an effort to help improve and simplify the world of warning labels I have attempted a rather generic warning label of my own.  Let me know what else you think should be added.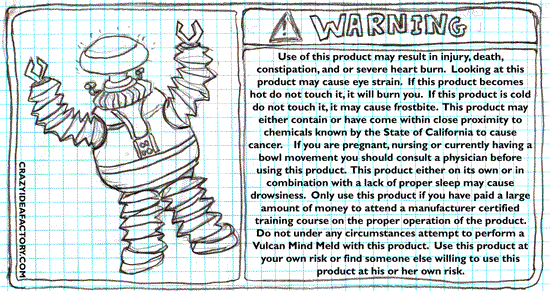 Use of this product may result in injury, death, constipation, and or severe heart burn.  Looking at this product may cause eye strain.  If this product becomes hot do not touch it, it will burn you.  If this product is cold do not touch it, it may cause frostbite.  This product may either contain or have come within close proximity to chemicals known by the State of California to cause cancer.    If you are pregnant, nursing or currently having a bowl movement you should consult a physician before using this product.  This product either on its own or in combination with a lack of proper sleep may cause drowsiness.  Only use this product if you have paid a large amount of money to attend a manufacturer certified training course on the proper operation of the product.  Do not under any circumstances attempt to perform a Vulcan Mind Meld with this product.  Use this product at your own risk or find someone else willing to use this product at his or her own risk.
Instead of listening to the same scripted excuse as to why raises aren't going to be what you expect, just press the "surrender button" and let your boss get back to planning what he is going to do with the incredibly large bonus he is getting…..or fight back???….na.
This crazy idea is inspired by the Illustration Friday word of the week, surrender.
It has long been considered bad form to wipe your nose on your sleeve, but that conflicts with the natural instinct to use the forearm to wipe your nose.
Why fight the urge?  Get yourself the "Sleeve Wiper". The "Sleeve Wiper" is a stack of tissues attached to your forearm.  Wipe away the snot, peel off the soiled tissue layer and you are ready for the next runny nose situation.  Great if you have a cold, kids or just enjoy more stuff strapped to your arm.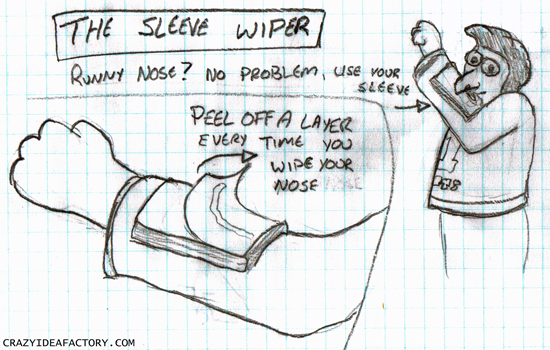 Are you fresh out of glass slippers and pumpkin carriages?   Is your evil stepmother getting on your nerves?  Maybe your Fairy Godmother is busy or overbooked or just not providing the level of service you expect from a Fairy Godmother.  Welcome to Rent-a-Fairy Godmother where you can rent best in class Fairy Godmothers for as little as $99.95 a night.
So the next time your wicked stepsister is attempting to move in on your prince charming don't leave your fate up to birds, mice and an your unreliable Fairy Godmother.  Call Rent-a-Fairy Godmother to schedule your appointment today.  Operators are standing by.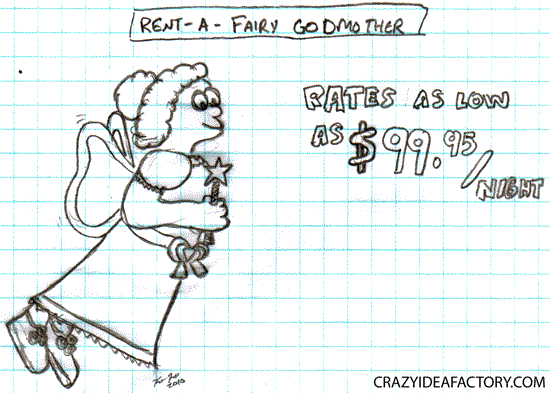 Is having money or credit cards available in your wallet or purse too big of a temptation, you may need the Wallet Lockdown.
The Wallet Lockdown will not allow you to spend money faster or in larger quantities than your preset intervals.  It may just be the help you need to avoid impulse buys at retail stores and it will force you to stick to the value menu when eating out.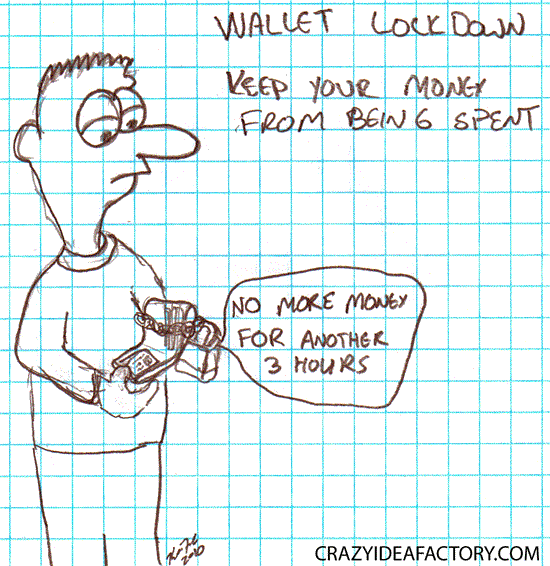 This crazy idea is inspired by the Illustration Friday word of the week, spent.
Crackers exist, peanut butter exists, cheese in a can exists; why doesn't peanut butter in a can exist?  This is the question troubling my dear friend Sandy.
There are crackers of all shapes, sizes and flavors, but the are all missing one critical thing; peanut butter in a can.  Write to your local peanut butter representatives and let them know you want to solve this problem plaguing our nations crackers.  Let them know you want to see peanut butter in a can on a store shelf near you!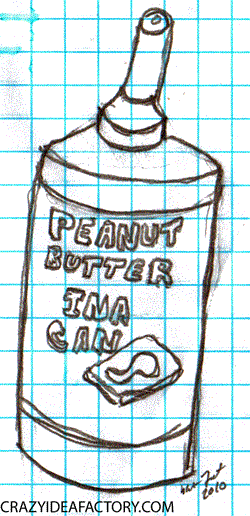 Are you having problems deciding where to go on vacation this year?  Is all the hassle of choosing a destination too much for you?
You should consider a random vacation.   A random vacation is where you pick an amount you are willing to spend and computer program randomly buys you a complete vacation package within that budget to a random destination.  One year you may be swimming on the beaches of the Bahamas and the next year you may be tagging along with scientific expedition in Antarctica.
Are you tired of wondering what to eat?  Do you stare into your refrigerator wondering what to eat tonight?  Do menus appear in  your nightmares because you dread decisions about what you should eat?
Get rid of those choices by choosing to eat only "Square Meals".  "Square Meals" are nutritionally perfect meal squares.  They provide all of the nutrition you need with none of the worry about having to choose what to eat.  If you are concerned about the flavor you can stop worrying, because "Square Meals" have none.
You most likely learned how to tell time when you were very young.   But, what exactly have you been telling time?  Is time responding and being helpful?
The "Tell Time Your Problems" clock, finally gives time a method to respond to what it is told.   Tell the "Tell Time Your Problems" your most pressing problem and it will spit out a piece of paper with advice on how to solve your problem.