The old fashioned slide show has become virtually extinct.  Gone away is hearing the clicking of slides and original commentary such as "This is Ed waving, and this is Ed pretending to be a chicken, and this is Ed hugging a statue, Ed is so funny, ha ha aha ha!"
But there is hope, if digital cameras had built in projectors the slide show parties could make a comeback.  Except now the picture takers would not be limited to 24 pictures on a roll of film,  they can take as many as their camera can handle.  A clicking sound could be added just to improve the effect and bring back memories of the old days watching slides from a slide projector.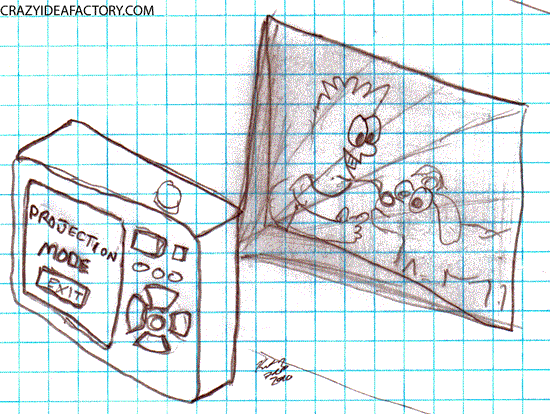 You most likely learned how to tell time when you were very young.   But, what exactly have you been telling time?  Is time responding and being helpful?
The "Tell Time Your Problems" clock, finally gives time a method to respond to what it is told.   Tell the "Tell Time Your Problems" your most pressing problem and it will spit out a piece of paper with advice on how to solve your problem.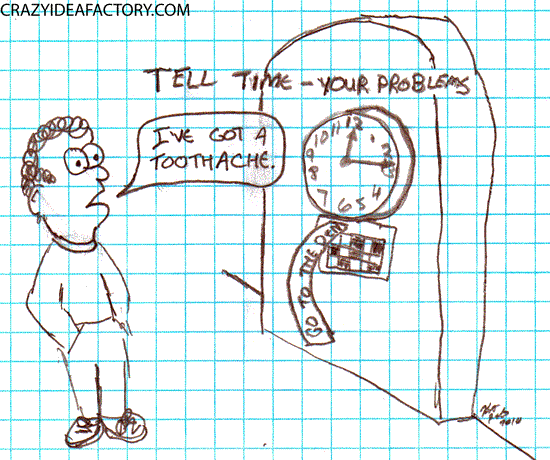 Curiosity is fun, take advantage of it by leaving interesting boxes around your house labeled with messages not to open them.  The boxes can be rigged with a loud annoying sound so when someone flips open the box to see what is beneath everyone around will know.  If you really want to track when a box is flipped open you could get creative and rig the boxes to text or Twitter you every time a box is flipped.
This crazy idea is inspired by the Illustration Friday word of the week, beneath.

The contest is over, I am sending the book out to the winner.  Thank you to everyone that entered, we will be having more giveaways so please check back.
Hello all!!
I have been doing a little clean up around the house and I found a few books I thought might be of interest to the readers and fans of Crazy Idea Factory.  One of these books is Gadget Nation by Steve Greenberg.  I read it and found it interesting, there a allot of interesting stories about gadget inventors.
Now, I am going to give my copy away to one lucky commenter to this post.  Place your comment before 3 pm Central Time Sunday, October 10, 2010.  I will notify the winner later that night via email and ship the book out later in the week (don't worry, I will pay the shipping).  Good luck!
You may have seen ski-ball games at arcades, they are they games where you roll a ball up a ramp and get points based upon which circle the ball lands in.  The problem with ski-ball is it involves absolutely no skiing.
Human Ski-Ball Jumping involves actual skiing.  A real person skis downhill, off a ramp and gets points based on which ring they land in.  If it actually existed and someone was foolish enough to attempt it, they may find it to be quite fun.
Many people who run on treadmills like to do so while watching television.   Treadmills with built in televisions are already on the market, but they still run on electricity from the grid.  If you want to really have motivation to get some exercise and to help the environment you should power your television with the energy you are creating by running on your treadmill.
If you were missing the drive to push yourself to run a little longer imagine how much more you can run if you need to keep running to see the exciting end of the game or the suspenseful climax of your favorite thriller.
Ever go for a jog and not have any pockets to store your money or keys?
Shoes should have a storage compartment in the bottom that is easily accessible but free from sweat and foot odor.  The compartment would need only be large enough to slide in a credit card, some cash or a couple of keys.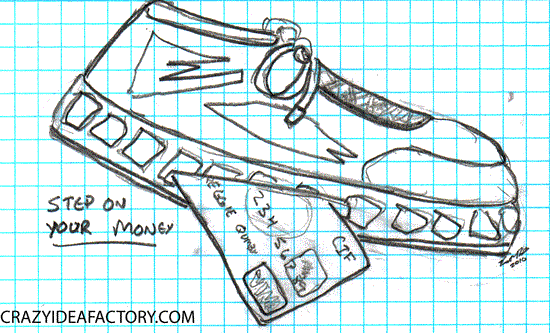 They say everyone puts their pants on one leg at a time, but you can do one better and put your pants on two legs at a time.  How, you may ask, can you put your pants on two legs at a time?  Why with the the Pants-2-Legs of course.
You just load your pants into the Pants-2-Legs make a big hop and pull your pants up both legs at once.  It will feel like you have achieved a whole new level of super hero status.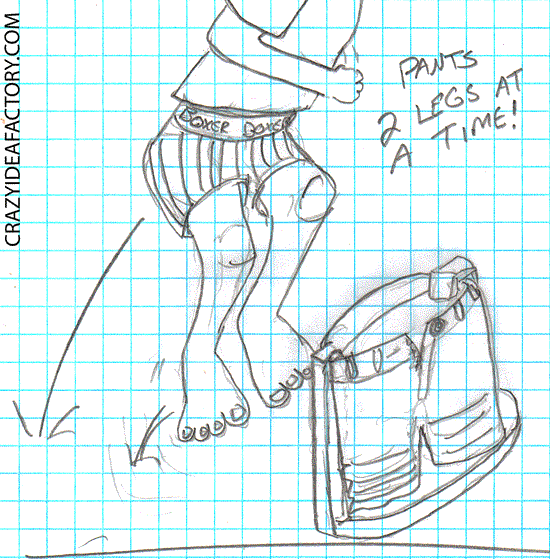 Any good spy will tell you a safe is not a very safe place to store your valuables.  You need to store your valuables in someplace nobody wants to look like the bottom of your trash can.  Thieves and espionage agents will never think to look for a secret compartment in the bottom of your trash can.  If you are still worried your trash isn't stinky enough to detour would be felons add a couple of poopy diapers, they are sure to keep all bad guys away (unless they lack a sense of smell).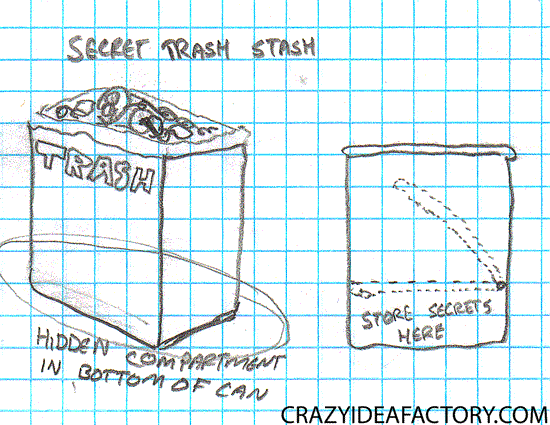 Do you dream of performing death defying stunts in midair?  Are you an accountant or are you thinking of becoming an accountant, but you want to add a little more flare to set yourself apart from other accountants?   You should combining your dreams and doing both, become an Acrobat Accountant.
Who better to find loopholes in tax law or to walk that legal tightrope than the Acrobat Accountant?  Audiences will be thrilled to watch you fly through the air on the trapeze while you fill out their tax returns.
This crazy idea is inspired by the Illustration Friday phrase of the week, acrobat.